Chain O' Lakes, Waupaca County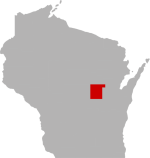 SHARE THIS PAGE
DISPLAYING 1 TO 10 OF 1,288 POSTS
FILTER OPTIONS
7/16/19 @ 3:31 PM
FISHING REPORT
Anglin' Adventures Fishing Guide - Fishing Report -

**20 Smallmouth & Largemouth Bass Caught, 1 Walleye and a few Rock Bass**


5am- I took out 2 people and they caught alot of really decent bass.Most fish came in about 3 - 15 feet of water with a majority of bigger bass being caught in about 8-10.

ZMAN Ned Rigs Finesse Power Jigs where the best bait today and my secret lure.
Also spent about 1 hour fishing northern pike with no luck

Average Smallmouth was about 14-15" with 2 over 3lbs and another big pig that got off.

I have a few days open in July and August yet if you want to book a trip.

Anglin' Adventures
(920) 479-8872
DISPLAYING 1 TO 10 OF 1,288 POSTS