Butternut Lake, Forest County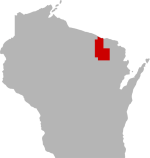 SHARE THIS PAGE
DISPLAYING 1 TO 10 OF 301 POSTS
FILTER OPTIONS
Divide Road is plowed, but the road leading into the East bay is not plowed. That was a LONG walk today and very difficult to say the least. Fishing was up and down. But, I don't ever think I'll walk that again. Some real bad slushy areas. Some really easy to walk on areas. About 18 inches of ice.
My mother, step father, girlfriend and I are coming up 27-30 of December. I'm hoping to get on some walleyes, panfish, and if the smallies are still in there like they were 15 yrs ago when I fished the lake.
I dont need your GPS coordinates or anything, but a little pointer or two would be much appreciated. I appreciate it! Feel free to PM me if youd prefer to keep it private.
Thanks, and I hope you all have a good Christmas!
DISPLAYING 1 TO 10 OF 301 POSTS