Butternut Lake, Forest County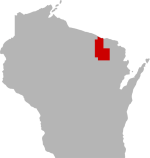 SHARE THIS PAGE
DISPLAYING 1 TO 10 OF 301 POSTS
FILTER OPTIONS
2/25/20 @ 11:49 PM
Divide Road is plowed, but the road leading into the East bay is not plowed. That was a LONG walk today and very difficult to say the least. Fishing was up and down. But, I don't ever think I'll walk that again. Some real bad slushy areas. Some really easy to walk on areas. About 18 inches of ice.
12/11/19 @ 5:37 AM
My mother, step father, girlfriend and I are coming up 27-30 of December. I'm hoping to get on some walleyes, panfish, and if the smallies are still in there like they were 15 yrs ago when I fished the lake.
I dont need your GPS coordinates or anything, but a little pointer or two would be much appreciated. I appreciate it! Feel free to PM me if youd prefer to keep it private.
Thanks, and I hope you all have a good Christmas!
2/26/19 @ 11:12 AM
FISHING REPORT
I went out this past weekend with some friends even with the slush. Immediately after we arrived we had to pat down an area with snow so you could set up base camp. The fishing was the fastest surprisingly in the middle of the day for perch and a few walleyes. We caught a few walleyes at night as well, but it was slow at night and in the morning. Most walleyes were between 10 - 14 inches and the perch were between 3 - 11 inches. A few Bluegills were also added into it. I created a video of the trip for you guys to see if anyone was interested.
DISPLAYING 1 TO 10 OF 301 POSTS