Brown Deer Park Pond, Milwaukee County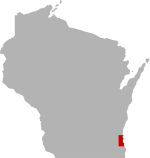 SHARE THIS PAGE
DISPLAYING 1 TO 10 OF 34 POSTS
FILTER OPTIONS
4/12/15 @ 9:49 PM
FISHING REPORT
MOON PHASE (44%)
Waning Crescent
Hot up the pond with my son from 5 till just past sundown. We kept 4 rainbows all 10 to 12 inches I know there are some bigger ones out there but not much bigger lol. I was fishing all wrong when I started. I tried the old corn trick that is usually successful but not today. As soon as I switched to a small cast master it was game on. Perfect place to take kids and get some practice in.
1/3/14 @ 8:56 PM
FISHING REPORT
Hit the pond on the way home. Popped another hole out in the middle ; the old pond map states max depth 5ft but my flasher was showing 7ft. Lost two medium sized bullheads at the hole, caught and released a smaller bullhead and a tiny bluegill. The flasher was marking fish until just after twilight.
1/3/14 @ 1:18 PM
FISHING REPORT
Popped a hole out over the 5ft pan in the middle between the two shallow points that separate the main pond from the leg in front of the boathouse. I tested the flasher and it was detecting fish right off the bottom and jigged right above. I ended up CPRing one little yellow bullhead and loosing two larger ones at the hole. No sign of the crappie or perch that I know were here in late spring.
12/31/13 @ 2:44 PM
FISHING REPORT
Popped two holes with my spud over lunch; about 4" near the boat house, a little over 6" opposite the bridge. I jigged in about 2 1/2ft of water for about 30min without any action. There was some green algae on the bottom.
12/17/13 @ 1:34 PM
Went out to check the ice during lunch. Shot three holes with my spud bar, two by the boathouse, and another about 15 or so feet on the other side of the pond from the bridge. 2" & 5" by the boat house (only a few feet apart); 3.5" across the pond from the bridge. All of the ice was weak pack ice. Saw a couple small open holes (maybe muskrats ? ) along Eastern shoreline.
DISPLAYING 1 TO 10 OF 34 POSTS