Boom Bay (on Poygan), Winnebago County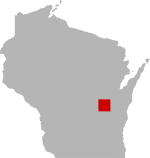 SHARE THIS PAGE
DISPLAYING 1 TO 10 OF 258 POSTS
FILTER OPTIONS
1/11/19 @ 9:03 PM
FISHING REPORT
MOON PHASE (26%)
Waxing Crescent
Hello everyone... there were ATV out when I was flying and filming from Boom Bay. Tight lines and be safe everyone. Remember NO ice is ever safe ice! Be sure to go to the YouTube channel and like and subscribe! Thanks in advance!
3/4/16 @ 2:50 PM
I just got off Boom Bay. A truck went through, left front tire to the frame. I walked about 40 feet from the truck and went through up to my knee. Seems like a line of bad ice running east to west about a 1/3 of the way out from the north shore. If you're going out, WALK and check the ice with your spud. Went from 16-18 inches to 1 inch. Maybe it was a crack that didn't heal well or springs????? Time to get the boat ready, It's just not worth it.
Oh yeah, fished from 6:15 till 12:30 and left with nothing.
DISPLAYING 1 TO 10 OF 258 POSTS