Bolton Lake, Vilas County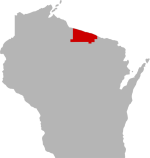 SHARE THIS PAGE
DISPLAYING 1 TO 8 OF 8 POSTS
FILTER OPTIONS
8/3/06 @ 9:25 AM
Whiskers
You are in for a treat.... This is a multi species lake.... I have a friend who lives on the north shore and I've fished there 3x's.. This lake is very cool, its very small 120 +- acres... Very deep in the middle.... No real midlake structure, you just have to fish the edges....
Muskies yes there is a point on the sw corner of the lake, find the deep weed edge there... There are tales of big fish in here because there is no public landing and all of the locals release everything.. I think there is a rustic landing that is grown over on the south side of the lake, suitable for small boats canoes etc.... raised a large fish while bass fishing from right under a dock on the north shore with a med jitterbug. A local that I talked to said that bright colors are the way to go for ole esox.
Bass: Yes my friend's son has had his pic taken with some very nice largemouths the largest was last year a 22 1/2" 6 lb er and its still swimmin' they had a graphite repro done.... He uses plastics exclusively... Dark colors black, purple, dark red..
Northern: All over the place. I caught 25 in on afternoon, all on a Mepps (aglia) #4 white w/ gold blade.. Most caught off of the big weed bed on the east side of the lake. Largest being 32" thru the ice. Walleyes: Only found them 1 time thru the ice jig/fathead in 12 fow right on the bottom
Misc panfish ???? never fished for them but there are large crappies in there they say...
Hope this is helpful Good Luck...
bobbz
7/11/06 @ 6:53 PM
Does anybody have any info on this lake? Will be vacationing on this lake for a week in Aug. and would appreciate any info. Looking to do some fishing and relaxing. Any kind of fishing is fine.Just wondering if anyone has fished it or knows anything about it.Any info appreciated. Thanks
DISPLAYING 1 TO 8 OF 8 POSTS