Black Oak Lake, Vilas County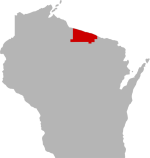 SHARE THIS PAGE
DISPLAYING 1 TO 10 OF 108 POSTS
FILTER OPTIONS
FISHING REPORT
I will be fishing up here the week after game fish closes and am looking to target burbot. Im thinking of fishing around a 30' depth with tip ups close to bottom and maybe jigging a glow rattle spoon.
I would appreciate any info from anyone on any tips to catch these fish.
Please pm and I will reply with how I did to you.
DISPLAYING 1 TO 10 OF 108 POSTS