Birch Lake, Forest County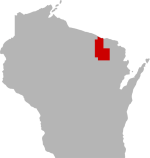 SHARE THIS PAGE
DISPLAYING 1 TO 10 OF 53 POSTS
FILTER OPTIONS
FISHING REPORT
Similar to 2 years ago, the only mosquito that bit me was at the launching area as I left. The first hour, coming out of a cold spell with a northeast wind, I thought that might be the only bite. About half the fish I saw were defensive, knocking the lure without hitting it. When the wind calmed a bit, I fished alongside the island and was rewarded. A 10 inch red eye was my smallest, but second smallest was 14 inches and the biggest 18. Caught one on a wacky rigged worm, another on a chartreuse Blue Fox spinner, with the champion lure being a silver Boy Howdy, surface propeller being twitched. I only saw one obvious bass spawning bed, with no guard. Last weekend was 30 degrees colder than the weekend before.

FISHING REPORT
Connor Hardware has changed over to Retail Shed, with the same phone number and manager, Terry Lukas, to reserve a boat. Reserving on June 2 was worthwhile for me, despite a 10 mph southeast wind. 11 smallies were boated, seven on a Mepps Glo spinner white and chartreuse color, blade size 3-4. The other four were on a surface Boy Howdy, but this time I used white with black stripes. Near the island worked best. Mosquitoes on shore were fierce but not bad on the lake.
FISHING REPORT
I caught one smallie on a wacky rigged plastic worm, with all others on the surface. Perch pattern showed mild interest but no real bites. Silver was the only truly successful color, with prop blades. The Hub Chub produced one smallie, others were on 4 1/2 inch Boy Howdy with short buzzes. Host Mike informed me a house there is for sale at only $1,500,000 but I resisted the urge and rented a boat from the hardware store.
FISHING REPORT
A northern bit off my spinner. Other fish caught were smallmouth but they didn't bite as well as the prolific mosquitoes. Some spawning beds were still guarded last Thursday - Friday. Best lure was silver colored surface plug - Boy Howdy with propellers. Fire tiger Rapala and silver Blue Fox spinner each caught a couple, mostly near the island.
Figured you were from down south. Why are you posting on a lake 3 hours from your home that you have never been to? Also maybe you should get out and socialize with the people that are fishing on your favorite lakes maybe they are nice people and you could share tips and maybe find some friends.
You know what,I apolgize for being a Dick, But it just gets under my skin when great spots get public. I dont fish this particiliar lake, but I got 2 "secret" public lakes that I seem to be the only one that fishes them, and they are awesome to say the least. I come on this website all the time scanning the reports and stressing over the word getting out on one of my secret lil lakes that I only take my wife and daughter to. Every time I go out on the ice, I have the lake to myself, and I have fished them for years, so I have pretty good luck. I fear if someone else wises up and tries theses lakes also, they might feel the need to come on here and start braggin the lake up, and suddenly I loose my favorite places to be. Its nice to share, but sharing on small lakes, can ruin a good thing. I see it happen all the time down here in S.E. WI.. I'm actually down 2 "secret" lakes, word got out, and now those lakes seem to always have a few guys out there..... All the time! I dont see anyone fishing "the spot", But I sure aint gonna go out there and fish it. Someone watching that happen and they'll brag FOR you. So once again, I apologize to you, and good luck fishin!
I have deleted my previous post because it was a bit rude.... Sorry
DISPLAYING 1 TO 10 OF 53 POSTS