Big Muskellunge Lake Area, Vilas County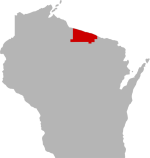 SHARE THIS PAGE
| | |
| --- | --- |
| | @ the lake |
DISPLAYING 1 TO 10 OF 133 POSTS
FILTER OPTIONS
5/1/19 @ 5:20 PM
Campground landing or the Sand landing on the North end are other options...
Captain Hooks Fishing Adventures
(715) 614-2099
5/1/19 @ 5:15 PM
Big, deep, and clear lakes are still holding onto some ice (Fence, Trout, etc). Plenty of lakes are open though but no piers are in yet.
Big Musky landing had an ice heave that ruined the pad. All the concrete is heaved and it's not usable. No idea when that will be repaired. So for the time being no one will be launching there (off CTH N).
8/3/18 @ 9:20 AM
When I arrived at the boat ramp on Monday, there was a man and woman getting ready to put their kayaks in at the ramp. As I was getting everything unloaded, they said that they were on Star Lake the day previous. I told them that Star now has spiny water fleas and that they should not put their boats in because of possible contamination. They totally ignored me and put in anyway. Probably should have called WDNR hotline. Assholes.
5/23/18 @ 5:29 PM
Heading up this weekend to fish and could use a little help. Looking to get on a walleye bite and heard it could be a good night bite and I'm willing to try. Not necessarily asking for an exact spot, but looking for what depth to Target the walleye along with structure types. Also wondering what bait to buy or a hot color. Seems to be a clear lake. I assume bass and panfish should be up shallow. Pm if possible and thanks in advance for any info.
1/15/16 @ 9:48 AM
FISHING REPORT
MOON PHASE (36%)
Waxing Crescent
Good clear 7" to the end of the landing bay and out to the main lake basin at 24-28 FOW. I caught several 6-8" perch and 15" walleye on jigging rapala.
Others using tip ups had lots of action on small northerns, medium perch, and walleyes.
Anywhere from 22'-28' producing fish - especially in/near sand grass.
One group of fishermen on snowmobiles went all the way out to center of the lake.
From talking to others, perch bite best early in day and walleye bite pretty good all day.
DISPLAYING 1 TO 10 OF 133 POSTS