Big Lake (County K), Vilas County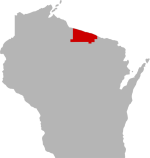 SHARE THIS PAGE
| | |
| --- | --- |
| | @ the lake |
DISPLAYING 31 TO 40 OF 116 POSTS
FILTER OPTIONS
11/6/09 @ 8:15 AM
FISHING REPORT
Pescator(and others) - If you really believe that the gate at the campground sucks, then perhaps you should call/email Steve Peterson and tell him how you feel. I posted his contact information below.
These career bureaucrats make these stupid decisions and answer to nobody! The only recourse we have to is continually voice our displeasure.
You can not complain if you sit back and do absolutely nothing.
10/30/09 @ 10:45 AM
FISHING REPORT
Crypto, Here is the thread you were looking for...as for the fishing this autumn, haven't been out since Labor day on this body of water...once again, the walleye were not where they have been in the past, seems like they stayed deep..20-30 feet of water late summer. right above what thermocline did develop. That four weeks of high pressure really kept them down deep. Hopefully next year we will have a warm summer and get those devils into a good weed pattern. Ice is at least three/four weeks off, depending on what this weather decides to do, so time to either freeze your butt off fishing, or get things ready for hard water. I am choosing the latter! To bad about the gate at the campground...that sucks...some people will be really p.o. about that...
6/17/09 @ 1:48 PM
I have been fishing Big Lake for well over 20 years. It was around 12 or so years ago that they increased the size limit from 12 to 14 inches. It was a few years latter that they made Bass catch and release. The lake does not have a lot of bass in it. With catch and release it has brought them back some. There are finally getting to be some really nice size smallies in the lake now. At first I was pissed they made it catch and release but have come to enjoy catching some nice size fish. I would imagine that there are some none law abiding people who do keep bass from this lake though. Not bring live bait could be a good thing also. This is a very good class A musky lake. Lets keep it that way and follow the rules.
If you want to catch some Smallies go to a lake north of there. I'll keep that name to myself.
happy fishing!
6/17/09 @ 11:44 AM
FISHING REPORT
This is pure speculation on my part:
My guess is they want to protect the bass (catch and release) so the crayfish can be kept in check. Obviously, livebait fishing increases the chance of gullet/gill hooking bass. The signs also state that barbless hooks must be used for bass.
6/17/09 @ 10:33 AM
Bottle Bass,
Good points by Magnum Esox... Make sure you have a good hydrographic map....A species that cannot be overlooked are the smallies... This lake has an abundant population of trophy bass..... This lake has a huge rusty crayfish population and the bass gorge on these things... The first spot magnum indicated , the reef off of the fiirst point to the right of the landing is a good place to start, then the whole south shoreline... Its all rocky and holds numerous bass.
Over the years have caught many 20"+ fish (with a personal best of 23 1/2 " 5.5 lbs) on everthing from crawlers to crayfish colored baits. If the prevailing wind is blowing you can drift the whole south shore. The SE end of the lake is good also for smallies... Muskies like the bay where you launch, Papoose Bay and the Rice creek entrance on the NE side of the lake...
We'll be on this body of water sometime during the week of June 20-28 will give report upon my return... Good Luck Bob
Have Fun
6/16/09 @ 4:47 PM
If you have not been on big lake before you should buy a map of the lake . There are many rock bars that are not marked. Most of them are off the points. the first point to the right of the boat landing eats 3-4 lower units a year it is about 75 yards off the point and only 8 inches deep. . There is good fishing in papoose bay. and the points. There are good size to thre walleyes and muskys in there.
DISPLAYING 31 TO 40 OF 116 POSTS