Big Lake (County K), Vilas County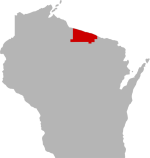 SHARE THIS PAGE
DISPLAYING 1 TO 10 OF 112 POSTS
FILTER OPTIONS
6/26/20 @ 2:59 PM
Any fish reports would be greatly appreciated, coming up Tuesday for vacation for a week. Thanks
3/6/16 @ 6:50 PM
FISHING REPORT
MOON PHASE (8%)
Waning Crescent
Went out on Feb 28. Started out at the Hwy K boat ramp. We were on foot. Travel was incredibly easy. We went along the shore to the left until we got to the point and came out to the ridge and found the drop offs. Fished all along that and probably cut 20 holes with not a single bite. Went over to the state park landing and cut another 20 holes between 6-20 feet and still found nothing.
Used tip-ups with golden shiners, also used waxies and mousees for bait on the jigging poles. Tried several colors.
Good thing we did well Saturday. It was tough going on Sunday. Not a bite over several hours of fishing.
1/23/16 @ 6:52 PM
FISHING REPORT
Ran tips ups between Keith island and shore on north side of island. No flags. No fish. Tried med shiners and suckers. Bunch of guys looking off the state park ramp no idea what was caught.ice depth run from 2"-12".....beware the spring holes!!!! Almost ran my sled in one!
10/12/15 @ 1:59 PM
FISHING REPORT
Just a friendly reminder (See my prior post from 8/20/13)...
If you're not familiar w/ this lake, please use caution. There are some nasty rock bars out there.
I was out on Saturday evening and watched another nice boat come to an abrupt halt on one of the rock bars.
He couldn't run WOT after that, but was able to limp back to the launch.
DISPLAYING 1 TO 10 OF 112 POSTS