Big Green Lake, Green Lake County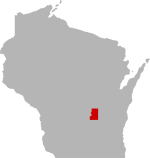 SHARE THIS PAGE
DISPLAYING 1 TO 10 OF 7,495 POSTS
FILTER OPTIONS
FISHING REPORT
I have been catching smallies on tubes in 8 to 20 feet all around the rocky shores where there is rocks and mixed with weeds.
I have not seen RedTail chubs sold for years but used to have them at Holiday Sporting good store in the fall. It has been probably close to 15 years ago. They sell them up north like in Minoqua quite plentiful along with blacktail chubs but you would need to have ice water and air pump if you are up that way and grab some. Deweycatchem up in Minoqua has them everytime I am there.
On GL they were always great for northerns and walleye trolling slow over the weed tops or on the outside edge. if you catch some perch I find they are just as good. I dont believe redtails are in green lake as they come from creek systems.
FISHING REPORT
Showers off and on this afternoon. East wind. Water temp 75. Trolled J13 jointed Rapalas through Malcolm Bay, Pigeon Cove and Norwegian Bay for a couple hours. Got a couple small mouth and a walleye in about 14 fow. Let em go as usual. More for everybody.
FISHING REPORT
9/2/2021
First time out on this lake. Pretty intimidating in a 14' Jon Boat. I was towards the back of the big bay north of Dodge Memorial Park. I was in 10' of water. Tried jigging, plastic worms, spoons and finally night crawlers. One rock bass on a Little Cleo gold 1/4 oz, tons of tiny perch on the crawlers (no keepers), a half dozen rock bass, 8" smallmouth, some small bluegills (an upper 20s" northern followed one to the surface!), a big and ugly yellow and brown mottled bullhead (I've never caught one like this) and one huge smally that broke my 4# line right at the boat. This is my first year fishing with a boat and I have no idea what I'm doing so take this for what it's worth. Any pointers as to where and how to fish this lake would be greatly appreciated. I like this lake and I will be visitng as often as possible! It is huge and I love smallmouth.
Lou
FISHING REPORT
Targeted Species: Smallmouth Bass
With the nights being a little cooler the smallmouth bass bite is starting to pick up. Some of the bigger fish are starting to bite again. We have been catching them in several different depth zones. 8 to 20' depths. They can be found on weed edges, rocks and drop offs.
Bluegills
Just go out and use your electronics. You can see schools of gillies everywhere. Nice eating size using wax worms and small jigs.
Largemouth Bass
Searching shorelines and docks for lots of decent size largemouth bass have been proving to be very productive.
Anglin' Adventures
(920) 479-8872
DISPLAYING 1 TO 10 OF 7,495 POSTS