Big Chetac, Sawwer County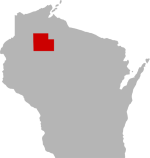 SHARE THIS PAGE
DISPLAYING 1 TO 10 OF 1,448 POSTS
FILTER OPTIONS
FISHING REPORT
We fished last week mostly on Big Chetac. Did well on the perch in 10 to 14'. Lots of small small mouth bass. Caught crappie on cribs in and blu gills all over. Fished quite a bit for Walleye with no action.
Mike
FISHING REPORT
Vacationed with the family Aug.7-14 and fished Birch Lake and Lake Chetac. We focused less on panfishing than in previous years, but did notice they were pretty scarce. Just a few sunfish and three rock bass. No crappies or perch. We did OK on lures: a lot of smallmouth bass, several in the 15-to-18-inch range; a handful of largemouth bass, including two that weighed 3.25 pounds; and a thick, 25-inch northern pike, plus a few smaller ones.
FISHING REPORT
Left 7/9 Weather was odd. 80's then 90's for 3 days next day 68 then gradually up to mid 70's over next 5 days. Water temp dropped from 78 to 73. Water clarity no where near as good as last year and algae bloom a little above average. Major weed lines at 8 to 9 feet. Most bass and pike caught there. No real pattern for baits. Caught fish on Shad Raps, spinner baits and Berkley Ring Shad. Got a few smallies on Ned rigs on rocks or gravel. No real bragging rights fish but few hammer handles and most pike in 4 to 5 pound range 25 to 29 inch. Not a pan fisherman but saw only a few crappie caught. Most pan fisherman brought in nice bluegills and a few nice perch.
FISHING REPORT
Fished this last week. Gills great early in the week till cold front. Good perch bite in the north basin in 20 foot of water. Trolling in the evening till dark produced a variety of fish on flicker shade. Walleye, northern, perch, crappie and bass. Stayed on the outside of the weeds mainly.
DISPLAYING 1 TO 10 OF 1,448 POSTS