Beckman Lake, Green County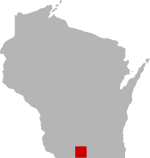 SHARE THIS PAGE
DISPLAYING 1 TO 10 OF 12 POSTS
FILTER OPTIONS
2/11/18 @ 2:15 PM
FISHING REPORT
MOON PHASE (15%)
Waning Crescent
Went out for half a day. lots of marks in most holes but fish were finicky. caught a good amount of gills, many small, biggest was 8, probably caught 3 over 7. One snake on a tipup. Fun time for the first time ice fishing here. Also, there were a lot of guys out, probably 15-20 shacks up
1/26/18 @ 8:06 PM
FISHING REPORT
MOON PHASE (70%)
Waxing Gibbous
Fished from 8:30 a.m. until 2:30 p.m. ice conditions were fine with approximately 10"-12" of good ice, puddling on top due to warm temps and light rain. The bite was slow in the morning but after moving around a bit it picked up towards noon. fish were down in the weeds 2 - 3 feet off the bottom. Caught some decent gills and 4 or 5 nice crappies, released many smaller fish.
1/5/18 @ 8:28 AM
FISHING REPORT
MOON PHASE (82%)
Waning Gibbous
Some of you may know this as only Cadiz Springs, name of these little lakes (2) has actually had 3 names.
Was bitterly cold to and from but inside portable was nice. Caught 30 gills couple hours fishing. Kept 8 that were 6 1/2" to 8".
Stay thirsty my friends

DISPLAYING 1 TO 10 OF 12 POSTS