Bear Lake, Waupaca County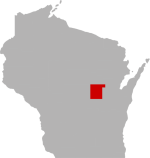 SHARE THIS PAGE
| | |
| --- | --- |
| | @ the lake |
DISPLAYING 20 TO 29 OF 204 POSTS
FILTER OPTIONS
8/24/13 @ 5:53 PM
FISHING REPORT
On the water about 7am-1pm. Fished in 30-40 FOW with a popper on the southwest end. Tagged a few bass. Once the wind picked up I headed to the north, using a deep diving crank, but not successful. Headed back to SW side and managed one more bass on the drop off, using a texas rig. Tried a bit for gills. A 5 incher was my monster out of the 5 I caught.
3/23/13 @ 6:38 PM
FISHING REPORT
Fished the north hole today for a few hours and marked only a couple fish with the flasher. The fish came in for a look and then swam away, started out small with a glow jig tipped with spikes then switched to a more aggressive pimple #2... no luck... ice was roughly 18 to 20 inches... any advice is welcome, tight lines !!
8/19/12 @ 6:14 AM
FISHING REPORT
Saturday: Caught 1 (25")pike on a plastic worm working the weed edge. Had another pike break the line. Saw a 3rd one cruising the edge about a 25-30 incher. One 16" LMB. Probably go out there again today.
DISPLAYING 20 TO 29 OF 204 POSTS