Bay Shore Park/Dyckesville, Brown County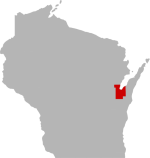 SHARE THIS PAGE
| | |
| --- | --- |
| | @ the lake |
DISPLAYING 20 TO 29 OF 715 POSTS
FILTER OPTIONS
2/5/16 @ 8:15 PM
FISHING REPORT
MOON PHASE (10%)
Waning Crescent
Went right off Bayshore this am in 19 ft of water. Saw nice schools of fish come through every 15 min or so. Mostly drive bys...nothing hit until about 1130. Then we got 3 in a half hour and lost 2 more at the hole. Had to go in at 1230 but I bet it would have been a decent afternoon.
2/5/16 @ 7:56 PM
FISHING REPORT
MOON PHASE (10%)
Waning Crescent
Fished for whitefish 9-3. Got on ice at Lipskys but saw group well to north, off county park, so drove the atv over the ice up to the group. Saw three whitefish on camera and caught two of them around 10 am. Could not get the 3rd one to hit. Went south to areas off Lipskys where I had caught whites before. 4 different spots, didn't see a thing. Went back to the spot off the county park. Saw one whitefish again, wouldnt hit. Other guys said it was slow. One guy had two, two guys had one each. Another guy had been out all day and only got a couple small perch. Visibility with camera about 3-4'. Fished between 15-20 fow. Used 1/4 oz rainbow pattern PK flutter spoon on bottom of usual rig, with waxies. The two fish I caught both picked the spoon up off the bottom--they swam by it when it was above bottom. No interest in waxies on slider hook. ATV was a bit iffy. Snow has smoothed out all the jagged ice from a couple weeks ago. There were numerous areas with water or slush on top of the ice. Almost got stuck a couple times in the slush. Snowmobile would be better choice, although lots of pickups were out on the ice. Thanks to the guys who gave me some gas. ATV really sucked up the juice driving around in 4 wheel drive.
2/2/16 @ 10:03 AM
Hello folks, A buddy and myself are heading over your way February 13th and 14th from Waupaca. We have never fished the Bay and we are looking for recommendations for a guide. I have checked into many services, but I always like to see what my fellow fishermen recommend. We are looking to target whitefish and perch. Thanks for your time and tight lines!
DISPLAYING 20 TO 29 OF 715 POSTS