Bay Shore Park/Dyckesville, Brown County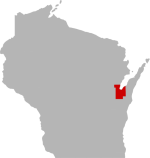 SHARE THIS PAGE
DISPLAYING 1 TO 10 OF 694 POSTS
FILTER OPTIONS
FISHING REPORT
Shoulda gone north. Late start Thursday AM, and water that was murky but smooth as glass, may have been a factor. Slow trolled around Voke's Reef for a while and casted to the rocky humps but had no luck. No waving nets around us, but there weren't that many boats out. Diving plugs on boards and my one hand held crawler rig on a bottom bouncer offered a rainbow of colors but all came up empty. Very happy to get out for the first time but fried fish for supper didn't happen. Surface temps were 52 degrees but lures disappeared about two feet down.
FISHING REPORT
Skinwalker we were told by a warden in Winneconnie that any fish ?? you catch prior to midnight you must put in your vehicle prior to midnight or they count towards the next days limit. You also cannot return the next night to catch 5 more fish prior to midnight. This is done a lot in Winneconnie.
Skinwalker, You are entitled to your own opinion, but I feel the fishing Regs clearly state that bag limits and possession limits are by "days" and not 24 hour periods of time. I think about it this way... how could a warden ever enforce a 24hr bag limit, if he or she didn't know for sure when an exact start time to any 24hr window began. However, a Warden is able to and does enforce a daily bag limit by using "Midnight" as a cutoff point for each day's limit of fish.
DAILY BAG LIMIT
The daily bag limit is the maximum number of fish that an angler may reduce to his/her possession from a specified waterbody or a portion of a waterbody in one day.
TOTAL DAILY BAG LIMIT
The total daily bag limit is the maximum number of fish that an angler may reduce to his/her possession in one day from all waters or portions of waters fished for that day.
An angler may combine the catch of a particular species from multiple lakes until the total daily bag limit is reached as long as the daily bag limit for each body of water is never exceeded. Be aware that while on the water you may not possess more than the daily limit for that body of water. For example, an angler catches a daily limit of walleye from a three-bag limit lake. The angler can not then go to another lake with a two-walleye limit while still possessing the three fish from the previous lake.
DISPLAYING 1 TO 10 OF 694 POSTS