Balsam Lake, Washburn County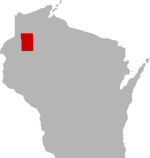 SHARE THIS PAGE
DISPLAYING 1 TO 10 OF 14 POSTS
FILTER OPTIONS
7/8/15 @ 4:18 PM
FISHING REPORT
Fished several hours and some great areas for pike and bass yesterday. Run off did not dirty water at all. Clarity was best I ever seen for July out here. Fish were extremely inactive. Had one good pike bite off a home made plastic frog at my boat. Other than that the fishing sucked but swimming in the lake was fun. I blame the 30.11 barometer on it. They were hiding tight to cover. Marked a nice school of pan fish 18' on bottom on side image. Probably crappies.
1/8/13 @ 8:07 PM
FISHING REPORT
went out today for some nice crappies and perch. Marked a ton of fish near the shacks, but they would fly to the jig, and pretty much stop or leave. Very irritating. Tried every presentation I could think of, and only tricked 6 bluegills and a perch into biting over six hours of fishing. Turned off completely from 4:00PM-Dark. Kept the perch and 4 gills around 7-8 inches.
12/22/10 @ 12:36 PM
FISHING REPORT
Fished Monday mornign at sunrise. After Pike & Perch, had 2 tip ups out for about an hour and 45 minutes, no flags. But did VERY well on a school of perch with the Fish Cam. A lot of little ones, but not uncommon to see 6 on the screen at once. Found some nicer sized perch, 8"-9" fish, caught a few that size right before I had to leave to meet a friend to fish near Chetek. I think if I would have stayed, I would have easily limited out on nice perch. They were VERY aggressive and bit very well, I think the baro pressure and the storm coming was to credit the excellent bite. Threw back all of my fish. Did see a largemouth bass on camera, surprisingly no pike on camera though. Lake is full of LITTLE ones. Enjoy the pic of my world record pumpkinseed, first fish through the ice this year. Must have been at least 5" long!!!
7/24/10 @ 8:52 PM
FISHING REPORT
Followed another rainy night. Water clarity was terrible compared to normal. 1 ft max. in 3.5 hours, caught 4 largemouth bass on plASTIC worm, an 8" smallmouth on a rapala, a 14" pike on a tube. Very very slow day. I think the murkyness of the water turned the smallmouth off completely this afternoon. Barometric pressure was perfect for fishing.
DISPLAYING 1 TO 10 OF 14 POSTS