Auburn Lake, Fond Du Lac County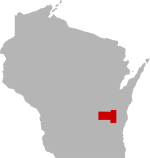 SHARE THIS PAGE
DISPLAYING 1 TO 10 OF 167 POSTS
FILTER OPTIONS
1/16/17 @ 10:57 AM
FISHING REPORT
MOON PHASE (79%)
Waning Gibbous
Was out 1-14-16. from 8am to noon. slow day. Fished east side from 6'to 26' of water. Caught a 23" Nort in 6 feet on tip up with a jumbo shiner. And a couple of finger sized perch in 22'. That's it. Was my first time walking on this body of water, I'll give it another go.
8/17/16 @ 9:30 PM
FISHING REPORT
MOON PHASE (99%)
Waxing Gibbous
We had a real nice night. First cast I got a 24inch northern pike on a senko rigged wacky.
We got some smaller bass and some pretty bluegills. All fish released including the 8 inch gill. No crappies or yellows.
Four other boats present. Saw the moon rise over the mouth of Lake Fifteen creek.
Dont know if we will go back for a while but glad we gave it a try.
1/25/15 @ 10:26 AM
FISHING REPORT
MOON PHASE (34%)
Waxing Crescent
Don't let 1 guys post fool you. This lake is very tough and there are way better options in the Kettle Moraine area than this lake. A good day out here is rare, but can happen, but the other lakes around here are more consistent. Long Lake is the best lake out here. And if you want action, go to Kettle Moraine lake.
1/24/15 @ 8:40 PM
FISHING REPORT
MOON PHASE (24%)
Waxing Crescent
Fished today from 9-4. Started in the middle of the lake with tipups set between 9 and 15 f.o.w. and jigging from 10'-20'. No flags and only marked fish in 20' but could not get them to bite. I did manage one 6" perch just before we packed up and move spots in 17 f.o.w. Moved to the boat landing from 1-4 with tipups in 3-4 f.o.w. and had about 10 flags and 4 northern, biggest one was about 19". Was fun to get some action after a morning of nothing.
DISPLAYING 1 TO 10 OF 167 POSTS