Arrowhead Lake (Little Star), Vilas County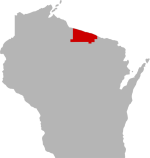 SHARE THIS PAGE
| | |
| --- | --- |
| | @ the lake |
DISPLAYING 1 TO 10 OF 22 POSTS
FILTER OPTIONS
7/30/19 @ 12:42 PM
We'll be staying at a rental on Arrowhead Lake in Woodruff again for a week in August. Does anyone have any tips for walleye on this lake? I can see the DNR regularly stocks them but I haven't been able to find any in this lake yet. Not looking for any secret spots, just hoping for some tips on jig color or other lure presentations to try, etc.
In the past couple years here, we've mostly caught good numbers of largemouth and nice-sized bluegill and pumpkinseed. One 38-inch Muskie was caught off the dock last year, and occasionally we'll find a nice perch or two but they're not frequently caught. Would love to get a walleye or two for some variety. Also have never caught any crappie in this lake; anyone else with luck on crappie?
If we catch anything of note this year, I'll report back after the trip.
6/19/13 @ 10:01 AM
FISHING REPORT
Fishing was good not great on Arrowhead. Water temps colder than last year and the bass and gills just started to move into the shallows. Caught enough panfish for dinner. Released the bass to spawn. Good but not great fishing.
8/26/08 @ 8:27 AM
Deekhntr, i asks u somes questions thats Iz waitin fer responses to cuz Iz wants to trow fer dem skeez in aroheads lake 2. needs to no if uz put smells on yur lurs when trowin, like anise or wd-40 or sumtin stinky. meet me a guide once dat spread lard on his lurs. he dead now tho, slipped on some o dat lard dat he had in hims boat and hit hims melon on da anchwhore. i tells hims once dat da anchwhores belongs in da water not in da boat. nobody pays no's never minds to me and my pinions.
8/23/08 @ 7:59 AM
Hey der dookhunter, where abouts that lad handle dat ski? dat's a biggun fer dat der lake ain't it. Nice fish doe........whishin i had latchded into er. Maybe Iz culd hire im fer a guide der eh? How old be he? 20, 25? whats he trowin out der fer dem ski's? Big olde jerk i bets. or maybe one of dem new fangled granny baits? glad to see he let er back in doe too. let em grow so dey can swim mores is my motto. give dat lad a tickle fer doing a fine job handlin er.
DISPLAYING 1 TO 10 OF 22 POSTS