Anderson Pond, Kenosha County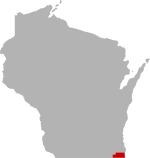 SHARE THIS PAGE
DISPLAYING 1 TO 10 OF 27 POSTS
FILTER OPTIONS
8/23/18 @ 10:38 AM
FISHING REPORT
MOON PHASE (93%)
Waxing Gibbous
There were plenty of large splashes by fish coming up to the surface, but none were really biting. Had a dinky bluegill on an earthworm and hook, but that was it. Caught more garbage and branches than anything. A guy walking by said he regularly cleans up using corn for carp there.
10/23/16 @ 12:09 PM
Not sure about what is in there for bass still. There used to be some in there. Went a lot last year, and only caught some small (very small) gills, some crappie, a few perch, some carp, and some of the trout when they were stocked in there. There used to be bass and pike in there, but that was quite a few years ago, so not quite sure what all is in there. Need someone with a camera to go in there and check it out to be sure.

6/25/16 @ 4:31 PM
I was just fishing there yesterday 6/24 and caught about 8 carp. Mostly small, only one that put up a great fight. I just threw out 2 cans of sweet corn about 10 or so feet out and just put corn on my hooks. I ended up taking all the weight off my lines because the carp would spit the hook out once they felt the weight. I'm not sure if they still stock it with trout.
7/2/15 @ 5:53 PM
FISHING REPORT
MOON PHASE (99%)
Waning Gibbous
Fished today for about three hours, got some small gills (and I mean small) a perch, and a crappie. Nothing much size wise. Do they still stock the trout in here? Had some corn on the bottom hoping to catch a carp for fun, but nothing had one good take on it, but didn't get the hook. Anyone else fish here? Curious as to what anyone else catches here.
4/3/15 @ 8:16 PM
Was wondering if it is worth it to pay for the inland trout stamp to fish here. I am not looking for the trout necessarily, but I'm looking for a place to take kids and have a chance of catching something. Thank you in advance for any info. If not here does anyone have any idea of some area ponds that are decent fishing, don't keep anything just want a place to keep kids busy.
DISPLAYING 1 TO 10 OF 27 POSTS