Anderson Lake Near Mountain, Wi , Oconto County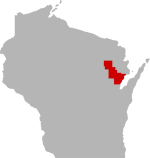 SHARE THIS PAGE
| | |
| --- | --- |
| | @ the lake |
DISPLAYING 1 TO 10 OF 156 POSTS
FILTER OPTIONS
12/27/18 @ 6:13 PM
FISHING REPORT
MOON PHASE (68%)
Waning Gibbous
I was out here on Christmas Eve morning.  Set up two tip ups and jigged with my son.  I didn't catch anything until 12:30pm when I decided to pull out my new St Croix Walleye rod and started jigging a rattlemaster with minnow head.  Jigged for about 5 minutes when I marked one that shot up and crushed it.  Ended up landing a 22-23 inch Musky.  It was the only fish we caught. 6 to 7 inches of ice in most holes.  Good luck out there.  This lake is good for a surprise every once in a while.
2/24/18 @ 8:49 PM
FISHING REPORT
MOON PHASE (66%)
Waxing Gibbous
Set up shop with my son in 15ft of water off Water's Edge Bar. Two tip ups and jigging in my flip over. Marked a couple fish but they weren't interested. I had two tip ups out and had one hammer handle Pike on a tip up with the kiddo. Fun afternoon nonetheless.
I think the fish we marked were very small panfish so that is good news for the Walleye and Muskies that were planted here.
5/13/14 @ 6:07 PM
Hey, just want to let everybody know about the new Fish Oconto Facebook page. In addition to visiting here, and I hope you continue to do so, please like my new page and post reports on your fishing results in the lower Oconto, breakwater area, and out of Oconto on the Bay.
Would love to see you.
https://www.facebook.com/ocontofishing
Dane
2/10/14 @ 8:28 PM
FISHING REPORT
Fished Thursday the 30th in a constant driving snow all day.Stuck several times with the 4 wheeler and wouldn't even attempt a truck due to no plowed roads and deep snow. Tip-ups for eyes , five hours, and no flags. No crappies either. Worse conditions I have fished in for several years. Felt good to hit the Waters Edge for a beverage afterwards. Did well on the gills the next day on Chute,which saved our weekend. I was told the lake would be plowed for the Fisheree. If it's not it will be crazy out there. Anderson can be a decent lake but no lake is okay in those conditions. I hope someone posts results after the contest. Good Fishing !!!
DISPLAYING 1 TO 10 OF 156 POSTS