Amy Bell Lake (Amy Dell), Washington County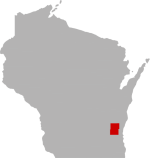 SHARE THIS PAGE
DISPLAYING 1 TO 10 OF 26 POSTS
FILTER OPTIONS
It has been a couple years since I visited this lake to figure out the public access, and at that time I did well enough fishing to want to go back. I was pleasantly surprised to find a nice walking path has been opened through the village property, allowing someone with a large sled easy enough foot travel.
This property is on the west end of the lake, access from the south shore. Park at the cul de sac on the west end of Amy Belle Lake Rd, walk north from there. Private property is clearly marked to the east and west, which identifies where you can and cannot walk.
Hope this clears up questions from others on where to access this lake. I've confirmed property boundaries with the Village, the Lake Association, and the county GIS website.
FISHING REPORT
Only way to access it is to know someone who has land on lake. My dad and I went to see his friend who lives in the lake and I decided to do a bit of fishing. Good to know that I won't be coming here again. Spent the whole day exploring the lake. Nothing but tiny bluegills and bass. Had underwater camera and a flasher with me and marked nothing but tiny fish. Don't waste you time here and fish somewhere else.
DISPLAYING 1 TO 10 OF 26 POSTS