Sheboygan River, Sheboygan County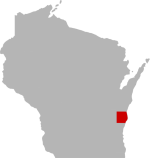 SHARE THIS PAGE
DISPLAYING 1 TO 10 OF 1,457 POSTS
FILTER OPTIONS
Hey RR61, good looking 'bright' fish ... you showed me those pics. when we talked in the lot as you were getting ready to leave ... Nice to meet another 'LLer' by the river ... Unfortunately, I only got a little Smallmouth ... Saw a few fish tailing and one 'foul hooked' by a local kid ......... I'll be back up there in a day or two .....................................
FISHING REPORT
Fished from around 3:30ish am-8:30ish am. I lost something of good size in the dark (I'm guessing king, but who knows?), got 2 smallies, and met my goal of catching a king. It wasn't a big one ( 24.5 inches, 6lbs), but I'm pretty happy about it. Didn't see another fish caught. The other people fishing today were great. I really enjoyed talking to one guy for a half hour or so. If you are reading this, thanks for the conversation and for sharing some of your local knowledge. I will probably post a video here at some point after I get it edited if the footage is okay.
All fish were caught on a gold #4 Vibrax. The fish I lost bit on a 4" perch pattern Berkley swimbait.
I sent you a pm riverrat, but I'm not sure if you'll get it or not. I'm heading down to Sheboygan from my place (in Wood County) at around midnight tonight bound and determined to catch a king. I was planning on hitting up the pier, but am I better off hitting the river? It kind of looks that way...
DISPLAYING 1 TO 10 OF 1,457 POSTS