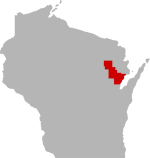 SHARE THIS PAGE
DISPLAYING 1 TO 10 OF 104 POSTS
FILTER OPTIONS
7/27/20 @ 4:19 PM
FISHING REPORT
Went out early this morning looking for perch. Caught a bunch in most places I tried but not one even close to 8". Wasn't planing on trolling but had a couple of rods with me with braid on. Threw out two flicker shads straight line behind the boat in 12 fow, got a nice 19" eye and a sheep, wind picked up so I headed in. Not many boats out.
6/23/16 @ 1:12 PM
FISHING REPORT
MOON PHASE (89%)
Waning Gibbous
Fished Young's Reef last night. Pulled deep diving stickbaits and harnesses. Had one good bite on a stickbait other than that nothing. Wind shifted to the north later on and water temperature dropped quick which didn't help much.

5/20/16 @ 7:40 PM
FISHING REPORT
MOON PHASE (99%)
Waxing Gibbous
Fished here early this morning until afternoon. Marked very few fish anywhere I tried from SW of the launch all the way up toward the Peshtigo. I covered depths from 5' out to 25' with no luck. I was surprised that there were no weed beds in the 10' range where they used to be, pretty much a bare sand bottom every where. Trolled a bunch of different baits and even tried anchoring in a few holes but didn't have a hit. Talked to two other boats with the same results? Any help would be appreciated, Thanks.
7/31/13 @ 2:27 PM
Looking to take a trip down in the next couple weeks and was wondering if there is any kind of Perch bite?
Don't want to waste a weekend traveling. Any kind of report will be appreciated. Not looking for spots as I've fished the area numerous times, just looking for some kind of information before committing to the trip.
Thanks
DISPLAYING 1 TO 10 OF 104 POSTS