Lake of the Ozarks, Miller County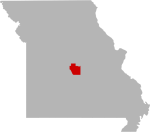 SHARE THIS PAGE
DISPLAYING 1 TO 10 OF 724 POSTS
FILTER OPTIONS
FISHING REPORT
MOON PHASE (95%)
Waning Gibbous
Fished the last 5 days and did ok caught several bass over 2 lbs. The bass were off steep banks sitting at 12 to 15 feet. Used the missile D bomb in green pumpkin and a brush hog also in green pumpkin. My two largest bass were 4.8 and 1 over 6lbs. The lake is clear to lightly stained . Good luck to all.
FISHING REPORT
MOON PHASE (33%)
Waxing Crescent
Wel things are getting better here at the lake. The fishing is starting to get better with ever warm day. The spring pattern is getting better each and everyday. Just in a matter of days it could get going and I can't wait.
The lake is stained and it is getting warmer .
FISHING REPORT
Well it has been a long time since I have been posting on here. I have fished several times ands caught a boat load of crappies and they tasted good good. The water temp is about normal 49 and the color is way off for winter time fishing. We like to have fairly clear water and that is simply not the case. I will be going all by myself for the next week or two but I will report that later today. The fish that we did catch was in 3 feet of water on a float and jig head fished about 2.5 feet deep. The bass activity has been terrible and well that has to be another story.
God bless you all lets make it through to fish another time again.
FISHING REPORT
MOON PHASE (15%)
Waxing Crescent
Well the fish don't bite everyday. some days they bite like crazy and others they just refuse. One thing for sure the the wind has more to do with it than anything. Today I missed around with it a little and it was just to darn cold out there to do anything. Tomorrow the weather is going to be a little warmer and the bite should be better. Heck one thing for sure the rod won't freeze to your hands. Going to try my little spot tomorrow if everything is better. The lake is dirty and 42.0 degrees the visibility is about 6 inches.
FISHING REPORT
MOON PHASE (4%)
Waxing Crescent
Had a good day with some nice crappies this past Saturday. The fish were shallow three feet fishing two feet down with a bobber. The fish were moving on and off a flat where the bait fish were getting out of the current up on a tiny flat. Hope that they stayed longer as I need another chance at them before the month goes out.
FISHING REPORT
MOON PHASE (76%)
Waxing Gibbous
Well the fishing is just about to take a turn for the worse. The water is currently close to 40 and it is so muddy that you could plant corn in it. Why would you say it is going to get worse well we are going to have a major storm hit the area in the next few days. OH BOY that will fix things up real good. The fishing this time of the year should be on fire with the crappie but the cold dirty water will be keeping that down. The forecast is bad and real bad for a few more weeks or until the weather starts getting warmer and the lake clears.
My suggestions would be stay at home and do your jobs and soon the fishing will be better. Hate to say it but the truth hurts.
FISHING REPORT
Well the fishing here at the lake is still going on. There are a few guys catching some of the bass but most are out there crappie. The crappie fishing here is pretty good however the big bass are still yet to be found. The crappie are being caught shooting docks and right on top of the brush piles. I would still rate the bass as low with some are being caught on jerk baits and jigs. On the other hand the crappie are being caught on jigs and docks on jig heads.
Just be careful out there the weather is still cold the water temp is in the mid 40s and the fish being caught is still better in front of the fireplace.
Have fun just remember the spring will come.
FISHING REPORT
Well another day has come and gone and the fishing is not really getting better. . Although I did catch a fish about ten pounds on a jig today and it fought pretty lame. I really thought it was a better fish until it show its sides and it was a glimmer of a white fish.The fish were not real hitting that good but that one hit was a real eye opener. The biggest fish was a dang old drum. Not good for anything but to take the hook out of it and let it go. Dang the luck I thought that this was the game changer..... We fished a jerk bait and a jig but really never got anything going. We only fished a couple of hours and it was getting dark time to come home.
tough fishing here at the lake.
FISHING REPORT
MOON PHASE (37%)
Waxing Crescent
Well here it is the new year and as always I want to thank everyone for reading this post. Thank you Thank you thank you...... Well with this extra bit of needed knowledge it makes me think and react with the needed knowledge to go fish and catch them critters. WELLLLLLLLLLLO that also came up short here anyway.I can not catch a dang fish for some reason. One of the biggest things that I have always had on the water was confidence is I know I can catch them. What happened to them know. I have been limited to just a few hours per day trying to figure them out but gosh it seems Like the harder I try well it is not getting better. The fishing is slow I know and the fish are scattered but the fish are not in my normal hiding spots.
So for me the fishing is slow . The weather is not terrible and tomorrow is going to be another day. One thing I will say it for sure is not a Jim Seitz bite. Jim is the other bass slayer here at the lake and comes to me once or twice a day and always ready to catch a lunker or two.
Jerk baits best choice or a slow moving jig may or may not get them riled them up. Tomorrow is going to be a better day...... Water temp is in the upper 40s
DISPLAYING 1 TO 10 OF 724 POSTS