Eagle
Wright County, MN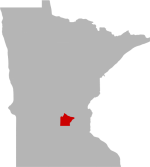 SHARE THIS PAGE
Eagle is located in
Wright County, Minnesota
. This lake is 191 acres in size. It is approximately 38 feet deep at its deepest point. When fishing, anglers can expect to catch a variety of fish including Black Bullhead, Bluegill, Brown Bullhead, Green Sunfish, Largemouth Bass, Northern Pike, Walleye, Yellow Bullhead, Yellow Perch, Pumpkinseed,.
Boat Ramp
Black Bullhead
Black Crappie
Bluegill
Brown Bullhead
Green Sunfish
Largemouth Bass
Logperch
Northern Pike
Walleye
Yellow Bullhead
Yellow Perch
Banded Killifish
Bluntnose Minnow
Bowfin
Carp
Central Mudminnow
Golden Shiner
Hybrid Sunfish
Pumpkinseed
Spotfin Shiner
White Sucker
NOTE: This list may not be all inclusive of all speices present in Eagle.
HISTORY AND STATUS OF FISHERY
Eagle Lake is a small (244 acre) lake located five miles west of Monticello in Wright County with a maximum depth of 38 feet. The 10 year average water clarity of six feet during the summer. Eagle Lake has a small watershed (1,621 acres) in which land use consists primarily of 31% forest, 29% agriculture, 14% open water, 12% hay/pasture, 7% residential, 4% grassland, and 3% wetland. There is a state-owned access located on the northeast end of the lake with enough parking available for eight vehicle/trailer combinations as well as a dock and portable toilet. A standard summer survey was conducted in 2016 to monitor changes in the fishery from the last survey completed in 2004. Near shore Index of Biotic Integrity sampling and emergent and floating leaf vegetation mapping were also completed to evaluate the physical habitat of Eagle Lake.

The catch rate of Walleye in Eagle Lake has fluctuated over the past and catch rates in 2016 were down from the previous survey and below the long term average. The average size of Walleye was 0.9 pounds and most Walleye ranged in length from 9 to 12 inches, but fish between 17 and 19 inches are available. Walleye is the only species stocked by the DNR in Eagle Lake, and fingerlings are stocked on a biennial basis. The largest age classes present were from the 2014 and 2012 stockings.

The 2016 Northern Pike catch rate was down from the previous survey, and fell below the lakes long term average. The average size of Northern Pike however increased to 4.2 pounds and 25 inches in length. Fifty percent of Northern Pike were greater than 24 inches in length; and the largest was nearly 36 inches. Anglers are encouraged to harvest the small pike (under 22 inches) and release the larger ones to help achieve a more balanced fish community and to improve growth rates. Lower pike numbers may also increase Walleye stocking success and allow Yellow Perch numbers (which are low) to increase. Higher perch populations are desirable as they are an important prey species for both Walleye and Northern Pike.

The catch rate of Largemouth Bass in Eagle Lake was approximately twice the average rate for lakes in the Sauk Rapids Management Area although many of the fish sampled were small. Anglers can expect good Largemouth Bass fishing with an opportunity to catch fish over 18 inches.

The Bluegill trap net catch was similar to the previous survey and near the long term average. The average size of Bluegill (6 inches) has increased and fish up to eight inches were sampled. The average replacement time for an eight inch sunfish in central Minnesota is 5-8 years. Therefore angers are encouraged to limit their harvest of larger Bluegill especially adult males which are more colorful in the spring time when Bluegill are in the process of spawning and are more easily exploited by anglers. The larger male Bluegills are important to maintaining a healthy size structure as they restrict reproduction by smaller males, allowing the smaller males to put more energy into growth and less into reproduction. Anglers can help improve fishing for Bluegill on Eagle Lake by selectively harvesting medium sized females and let the largest males go.

Black Crappie numbers increased from 2004, but remained relatively low as they have been historically in Eagle Lake. During late summer, crappie are less likely to use areas near shore, and aren't as likely to be sampled. Although relatively few Black Crappie were sampled, 41% were greater than 10 inches in length.

Other species sampled during the survey included: Black Bullhead, Bowfin, Brown Bullhead, Common Carp, Golden Shiner, Green Sunfish, Hybrid Sunfish, Pumpkinseed Sunfish, and Yellow Bullhead. All of these species were sampled at rates either within or below the range of expected values for the respective lake class.

Near shore IBI sampling was used to survey small minnow species that are sensitive to changes in water quality. During the near-shore sampling the following sensitive species were collected: Iowa Darter, Johnny Darter, Banded Killifish, Blackchin Shiner, and Spottail Shiner. The presence of these species is an indicator that Eagle Lake has relatively good water quality and habitat. Changes in shoreline development have the potential to negatively affect the health of a lake. It is important that all lake shore owners follow County shoreline rules and only mow a small area down to the lake to allow access and avoid clearing their entire shoreline. Native vegetation helps stabilize shoreline soils and acts as a buffer reducing the amount of pollution that enters a lake from runoff.

NOTICE: Lake-Link Inc assumes no responsibility or liability for any errors or omissions of the information for Eagle. Although we strive to provide the most accurate information as we can the information contained in this page is provided on an "as is" basis with no guarantees of completeness, accuracy, usefulness or timeliness.