Clearwater
Wright County, MN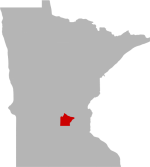 SHARE THIS PAGE
Clearwater is located in
Wright County, Minnesota
. This lake is 3,158 acres in size. It is approximately 73 feet deep at its deepest point. When fishing, anglers can expect to catch a variety of fish including Black Bullhead, Bluegill, Brown Bullhead, Green Sunfish, Largemouth Bass, Northern Pike, Rock Bass, Walleye, Yellow Bullhead, Yellow Perch, Pumpkinseed,.
No ramp
Black Bullhead
Black Crappie
Bluegill
Brown Bullhead
Green Sunfish
Largemouth Bass
Logperch
Northern Pike
Rock Bass
Walleye
Yellow Bullhead
Yellow Perch
Banded Killifish
Blacknose Shiner
Bluntnose Minnow
Bowfin
Brook Silverside
Carp
Cisco (Tullibee)
Fathead Minnow
Golden Shiner
Hybrid Sunfish
Johnny Darter
Pumpkinseed
Shorthead Redhorse
Spottail Shiner
White Sucker
NOTE: This list may not be all inclusive of all speices present in Clearwater.
HISTORY AND STATUS OF FISHERY
Clearwater Lake is a 3,158 acre lake located two miles north of the city of Annandale in Wright and Stearns Counties. The watershed primarily consists of cultivated crops, pasture, and deciduous forest. The lakeshore is highly developed, and is a popular recreation and sport fishery. There are two public accesses and both are located in the west basin. Clearwater Lake is primarily managed for Walleye and Northern Pike. Walleye fry are stocked by the DNR every other year at a rate of 1,000/littoral acre.
A special assessment for Black Crappie was conducted after hearing concerns from anglers that fishing was not as good as experienced in previous years. A total of 667 fish were sampled with fish ranging in length from 5 to 14.4 inches. Many age classes were present during the spring assessment (ages 2-13, with the exception of 12), indicating that recruitment is occurring in most years. The mean length at age-4 was 10.3 inches. Clearwater Lake has a healthy population of black crappies in terms of their size and age structures. Fish of a variety of sizes were seen; furthermore, fish were reaching sizes that are considered preferable to anglers.
Largemouth Bass were sampled via nighttime electrofishing. A total of 149 fish were sampled in approximately three hours and twenty minutes for a catch rate of 44.9 fish/hour. Largemouth Bass varied in size from 7.2 to 20.4 inches, averaged 12.9 inches, and had 30% of the fish measured over 15 inches in length. The length distribution and average length was similar to the results in 2005. The 2014 catch rate of Largemouth Bass is near the Montrose Area Lakes average catch of 52 fish/hour. Largemouth Bass are a popular targeted species in Clearwater Lake, and rightfully so considering the large size distribution and moderate abundance.
The catch rate for Walleye deceased from 2005 and was below the 1980-2014 average. Walleye ranged in length from 7.7 to 28.0 inches and averaged 18.1 inches and 2.2 pounds. Eight different year classes of Walleye were present, with the 2010 year class making up 47% of the fish sampled. The 2008 year class represented 21% of the sampled Walleye. Although the catch rate was low, the Walleye population is still considered to be relatively healthy. It has a variety of age classes, large size distribution, and average size that many anglers would agree to be of preferred size.
Northern Pike started increasing in abundance in the mid-1980s and have been in high abundance when compared to similar lakes. The 2014 catch rate was similar to previous three surveys. Length of Northern Pike ranged from 13.7 to 34.6 inches with the average fish being 21.9 inches and 2.2 pounds. Three percent of the fish sampled were over 30 inches in length. Northern Pike on Clearwater Lake is one species that can likely withstand a higher rate of harvest, especially on Northern Pike less than 24 inches in length.
Bluegill varied in length from 3.0 to 8.9 inches in length with an average size of 5.5 inches and 0.2 pounds. The number of Bluegills decreased from the previous survey, and was below the average expected value for Clearwater Lake. However, length ranges were similar to previous surveys. In addition to Bluegill, Green Sunfish, Hybrid Sunfish, and Pumpkinseed were sampled.

Other species observed include all three species of Bullhead, Bowfin (Dogfish), Common Carp, Rock Bass, and White Sucker. Bowfin and Common Carp are not sampled well in lake surveys due to the gear being used are not selective for these species and these species are not targeted during ideal times and conditions. During night Largemouth Bass Electrofishing numerous Bowfin and Common Carp were seen.

Eurasian Watermilfoil
Zebra Mussel

Recreational activities such as recreational boating, angling, waterfowl hunting, and diving may spread aquatic invasive species. Some aquatic invasive species can attach to boats, while others can become tangled on propellers, anchor lines, or boat trailers. Many species can survive in bilge water, ballast tanks, and motors or may hide in dirt or sand that clings to nets, buckets, anchors, and waders. Fortunately, completing simple steps can prevent the transport of aquatic invasive species.
LEARN MORE
NOTICE: Lake-Link Inc assumes no responsibility or liability for any errors or omissions of the information for Clearwater. Although we strive to provide the most accurate information as we can the information contained in this page is provided on an "as is" basis with no guarantees of completeness, accuracy, usefulness or timeliness.