Caroline
Wright County, MN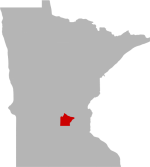 SHARE THIS PAGE
Caroline is located in
Wright County, Minnesota
. This lake is 135 acres in size. It is approximately 45 feet deep at its deepest point. When fishing, anglers can expect to catch a variety of fish including Black Bullhead, Bluegill, Brown Bullhead, Channel Catfish, Flathead Catfish, Green Sunfish, Largemouth Bass, Northern Pike, Rock Bass, Walleye, Yellow Bullhead, Yellow Perch, Pumpkinseed,.
No ramp
Black Bullhead
Black Crappie
Bluegill
Brown Bullhead
Channel Catfish
Flathead Catfish
Green Sunfish
Largemouth Bass
Northern Pike
Rock Bass
Walleye
Yellow Bullhead
Yellow Perch
Banded Killifish
Bluntnose Minnow
Bowfin
Brook Silverside
Carp
Cisco (Tullibee)
Golden Shiner
Hybrid Sunfish
Johnny Darter
Pumpkinseed
Spottail Shiner
Tadpole Madtom
White Sucker
NOTE: This list may not be all inclusive of all speices present in Caroline.
HISTORY AND STATUS OF FISHERY
Lake Caroline is a 126 acre lake located along the Clearwater River in Wright County. Lake Caroline has no public access, however under high water levels and when the Clearwater River is free from obstruction it can be accessed from Lake Augusta. This is one of the few lakes in the Montrose Fisheries Office that has Northern Pike and Largemouth Bass are the primary managed species. In 2005, all of the lakes along the Clearwater River were surveyed. These include: Louisa/Marie, Caroline, Augusta, Clearwater, and Grass lakes. Similarly, in 2014 all of these lakes were surveyed again.

Largemouth Bass were sampled during day via electrofishing. Thirty-nine fish were sampled. The catch rate of Largemouth Bass was 38.8 fish/hour, which is an increase from the 24.7 fish/hour seen in 2005. Largemouth Bass from the electrofishing survey varied in length from 10.2 to 18.7 inches with a mean length of 14.6 inches. The size range is similar to that seen in 2005. Proportional stock density (PSD) was 100 and the relative stock densitypreferred (RSD-P) was 56. The number of quality and preferred sized fish sampled increased from 2005 when PSD was 80 and RSD-P was 40. Additionally, three fish were sampled in trap nets. Notably, one of these fish was 20.1 inches in length.

Twenty-two Northern Pike were sampled in the gill nets for a catch rate of 3.7 fish/net. This is an increase from 2005, but is still below the 5 fish/gill net seen in 1997. The 2014 catch rate puts Northern Pike near the expected average for similar lakes. Similar length ranges were seen to previous surveys with Northern Pike sampled varying in size from 17.3 to 33.9 inches. The average fish was 23.1 inches long and 2.7 pounds.

Bluegill numbers were low. A catch rate of 6.63 fish/trap net put Bluegill below the average number of expected fish. Fish from trap nets and gill nets ranged in length from 2.8 to 8.7 inches with an average size of 6.3 inches and 0.3 pounds. The length range has remained consistent to previous surveys, but the average length decreased from 7.2 inches in 2005. In addition to Bluegill, Green Sunfish, Hybrid Sunfish, and Pumpkinseeds were sampled.

Black Crappie had a trap net catch of 5.88 fish/net. Trap net and gill nets sampled fish from 3.9 to 13.4 inches with an average length of 6.3 inches and 0.6 pounds. Although the average size is lower than seen in 2005, 8.6 inches, multiple fish were seen over 10 inches.

A total of thirty Walleye were sampled from Caroline Lake. Of this twenty-seven were captured in the gill nets for a rate of 4.5 fish/net. Fish sampled varied in size from 13.6 to 28.3 inches. The average Walleye was 17.5 inches and1.6 pounds. It is interesting to note that this lake is not stocked with Walleye. Either natural reproduction occurring in Caroline or fish are migrating into this system from either upstream or downstream. If the later, fish from upstream in Louisa and Marie would be natural reproduction. If the fish migrated upstream they could be either naturally reproduced or from stocking events in Clearwater Lake.

Channel Catfish were sampled in low numbers again with three fish sampled and a catch rate of 0.5 fish/ gill net. Fish sampled were 17.9-19.7 inches.

All three Bullhead species, Common Carp, Rock Bass, Bowfin, and White Sucker were also sampled in this survey. Most of these underutilized species were sampled in low numbers, with the exception of White Suckers. Twenty-seven White Suckers were sampled in the gill nets for a catch rate of 4.5 fish/net, placing them in the upper quartile for Lake Class 24. They varied in size from 15.7 to 21.7 inches in length with an average size of 17.8 inches and 2.5 pounds.


Recreational activities such as recreational boating, angling, waterfowl hunting, and diving may spread aquatic invasive species. Some aquatic invasive species can attach to boats, while others can become tangled on propellers, anchor lines, or boat trailers. Many species can survive in bilge water, ballast tanks, and motors or may hide in dirt or sand that clings to nets, buckets, anchors, and waders. Fortunately, completing simple steps can prevent the transport of aquatic invasive species.
LEARN MORE
NOTICE: Lake-Link Inc assumes no responsibility or liability for any errors or omissions of the information for Caroline. Although we strive to provide the most accurate information as we can the information contained in this page is provided on an "as is" basis with no guarantees of completeness, accuracy, usefulness or timeliness.