Augusta
Wright County, MN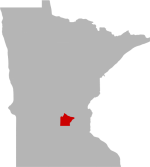 SHARE THIS PAGE
Augusta is located in
Wright County, Minnesota
. This lake is 187 acres in size. It is approximately 82 feet deep at its deepest point. When fishing, anglers can expect to catch a variety of fish including Black Bullhead, Bluegill, Brown Bullhead, Green Sunfish, Largemouth Bass, Northern Pike, Rock Bass, Walleye, Yellow Bullhead, Yellow Perch, Pumpkinseed,.
No ramp
Black Bullhead
Black Crappie
Bluegill
Brown Bullhead
Green Sunfish
Largemouth Bass
Northern Pike
Rock Bass
Walleye
Yellow Bullhead
Yellow Perch
Banded Killifish
Blacknose Shiner
Bluntnose Minnow
Bowfin
Brook Silverside
Carp
Cisco (Tullibee)
Golden Shiner
Hybrid Sunfish
Johnny Darter
Pumpkinseed
Shorthead Redhorse
White Sucker
NOTE: This list may not be all inclusive of all speices present in Augusta.
HISTORY AND STATUS OF FISHERY
Lake Augusta is a 177 acre lake located along the Clearwater River in Wright County. Lake Augusta can be accessed from Clearwater Lake which has two public boat accesses on its west side. In 2014, water clarity ranged from 4 to 9.5 feet in mid to late summer. Oxygen was adequate for sport fish to a depth of 18 feet. Lake Augusta has a moderate diversity of aquatic plants growing in sparse beds around the lake out to a depth of 14 feet. Eurasian water milfoil and curly leaf pondweed (both invasive aquatic species) are found in moderate abundance throughout the lake, so the potential for spreading these species into and out of the lake is high. Anglers and boaters should take extra precautions to prevent the further spread of all invasive species.

The day time electrofishing catch rate of Largemouth Bass in 2014 (25/ hour) was lower than the average value for Montrose Area lakes, (38/hour) but higher than the night time rate observed in 2005 (16/hour). Largemouth Bass ranged in length from 11.1 to 18.5 inches with an average length of 14.6 inches. The size structure of the Largemouth Bass population in Augusta is well balanced and the fish are in good condition. Of the catchable size Largemouth Bass, 89% were greater than 12 inches and 46% were greater than 15 inches. The Largemouth Bass population in adjacent Clearwater Lake has a reputation for quality fishing and anglers can expect good fishing for largemouth in Augusta as well.

The Northern Pike gill net catch in 2014 was lower than that observed in 2005 but remained above average compared to similar lakes. Northern Pike abundance has decreased since 2005, although the average size has improved. The Northern Pike sampled in 2014 ranged in length from 17.4 to 33.0 inches and averaged 23.2 inches and 2.7 pounds. Forty three percent of Northern Pike sampled were longer than 24 inches.

The Walleye gill net catch increased from 2005 and was near the average for similar lakes. Walleye ranged in length from 15.4 to 29.1 inches and averaged 20.6 inches and 2.6 pounds. No Walleye are stocked in Lake Augusta, but fish likely move into the lake from adjoining Clearwater Lake. After several years of successful Walleye stocking in Clearwater Lake it appears that Walleye have become more abundant in Lake Augusta as well.

Bluegill was the dominant species sampled with trap nets however, the catch rate was below the expected range for lakes similar to Augusta and the lowest recorded since 1979. Bluegill ranged in length from 3.2 inches to 8.3 inches with a mean length of 6.5 inches. The size structure of Bluegill in Augusta was good as 48% of the fish sampled were longer than 7 inches.

The catch of Black Crappie was similar to 2005 and within the range of expected values. Black Crappies ranged in length from 4.2 to 11.2 inches with an average length of 9.0 inches. Sixty nine percent of the Black Crappie sampled were longer than 9 inches.

Other species sampled included: Bowfin (dogfish), Brown Bullhead, Common Carp, Golden Shiner, Hybrid and Pumpkinseed Sunfish, Tullibee (Cisco), Rock Bass, White Sucker, Yellow Bullhead, and Yellow Perch.

The protection of water quality and habitat is critical in maintaining and improving fish and wildlife populations. Unfortunately, human activities often negatively impact our lakes. Fertilized turf grass lawns and failing septic systems along with the removal of shoreline and aquatic vegetation, mowing to the shore, and installing sand blanket beaches result in destabilized shorelines, uncontrolled erosion, and increased run off, contributing excess nutrients and sediment to the lake and degrading water quality and habitat. By understanding the cumulative impacts of our actions and taking steps to avoid or minimize them, we can help insure that our water resources can be enjoyed into the future.

Zebra Mussel
Eurasian Watermilfoil

Recreational activities such as recreational boating, angling, waterfowl hunting, and diving may spread aquatic invasive species. Some aquatic invasive species can attach to boats, while others can become tangled on propellers, anchor lines, or boat trailers. Many species can survive in bilge water, ballast tanks, and motors or may hide in dirt or sand that clings to nets, buckets, anchors, and waders. Fortunately, completing simple steps can prevent the transport of aquatic invasive species.
LEARN MORE
NOTICE: Lake-Link Inc assumes no responsibility or liability for any errors or omissions of the information for Augusta. Although we strive to provide the most accurate information as we can the information contained in this page is provided on an "as is" basis with no guarantees of completeness, accuracy, usefulness or timeliness.