Big Swan
Todd County, MN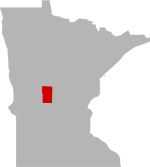 SHARE THIS PAGE
Big Swan is located in
Todd County, Minnesota
. This lake is 887 acres in size. It is approximately 45 feet deep at its deepest point. When fishing, anglers can expect to catch a variety of fish including Black Bullhead, Bluegill, Brown Bullhead, Green Sunfish, Largemouth Bass, Northern Pike, Rock Bass, Walleye, Yellow Bullhead, Yellow Perch, Pumpkinseed,.
Black Bullhead
Black Crappie
Bluegill
Brown Bullhead
Green Sunfish
Largemouth Bass
Logperch
Northern Pike
Rock Bass
Walleye
Yellow Bullhead
Yellow Perch
Banded Killifish
Blackchin Shiner
Blacknose Shiner
Bluntnose Minnow
Bowfin
Brassy Minnow
Brook Silverside
Carp
Central Mudminnow
Cisco (Tullibee)
Golden Shiner
Hybrid Sunfish
Iowa Darter
Johnny Darter
Lake Chub
Pumpkinseed
Spottail Shiner
Tadpole Madtom
White Sucker
NOTE: This list may not be all inclusive of all speices present in Big Swan.
HISTORY AND STATUS OF FISHERY
Big Swan Lake is a popular fishing lake west of the Town of Burtrum in Todd County. Big Swan Lake lies within an agricultural watershed, which results in reduced water clarity especially following snow melt and rain events. The lake also has curly leaf pondweed, which adds to the mid-summer nutrient loading. Algae blooms during the summer months are a common occurrence. Fishing structure includes weedlines, sunken bars and islands, as well as extensive bulrush beds.
The lake supports a diverse fish community that attracts anglers, including species such as walleye, northern pike, largemouth bass, bluegill, and black crappie. There is a regulation on the lake prohibiting the possession of northern pike between 24 and 36 inches, with one over 36 inches allowed. The regulation will change in spring of 2013 to a bag limit of six pike, but, the slot limit will be retained. The goal of the regulation is to improve the size structure of the pike population while decreasing numbers of smaller pike. Northern pike abundance, however, has shown increases the last two surveys and appears to be at a record high. Most of the pike observed in the survey were between 17 and 22 inches in length, however, fish over 30 inches were caught.
Walleye stocking appears to sustain the fishery in Big Swan Lake and a wide range of sizes look to be available to anglers. Average size in the survey was about 2 pounds but some trophy size fish have been observed. Larger largemouth bass up to 19 inches in length were observed in the spring electrofishing assessment which is the method used to evaluate bass populations. There also appears to be good numbers of bass between 15 and 17 inches. Yellow perch abundance showed a decline again since the last survey and although some anglers consider them to be pests, they can be an important food species for both northern pike and walleye. Perch can also be instrumental in helping maintain a well-balanced bluegill population with fast growing, quality size individuals.
Bluegill provide a popular summer fishery in the area at times. Anglers report having good luck catching 6 to 7-inch bluegill and fish up to 9 inches have been found. Winter seems to be the best time to find black crappies in Big Swan Lake. Recent ice fishing reports indicate the presence of a strong year class providing 8 to 10-inch crappie during the day. Spring assessments, spring electrofishing, and summer surveys have documented larger crappie over 12 inches. Other panfish species in Big Swan Lake include pumpkinseed sunfish, rock bass, and hybrid sunfish.
Big Swan Lake would also be an excellent choice for any angler seeking quality size bullhead. Two species of bullhead are present in the lake and both the brown and yellow bullhead catches had individuals over 13 inches in length. Other fish species found in Big Swan Lake include white sucker, bowfin or dogfish, and common carp. Suckers were caught during the summer survey while bowfin were observed in both the spring panfish and spring electrofishing assessment. Carp were observed in the spring electrofishing assessment.
Along with the release of the larger northern pike, anglers are encouraged to practice catch and release with the larger individuals of other species to achieve a balanced fish community and provide opportunity for quality size fish. Improving the water quality in Big Swan Lake should be a high priority of the lake association and landowners around the lake. Preservation of the emergent vegetation beds can help to improve water quality and protect shorelines as well as valuable fish habitat. Buffer strips along inlets and lakeshore property would also help to reduce nutrients entering the lake. Maintaining adequate septic systems, keeping grass clippings and raked leaves out of the lake, and the use of zero phosphorus lawn fertilizer are all ways for homeowners to help reduce added nutrients from entering the lake and contributing to excess algae and weed growth.

NOTICE: Lake-Link Inc assumes no responsibility or liability for any errors or omissions of the information for Big Swan. Although we strive to provide the most accurate information as we can the information contained in this page is provided on an "as is" basis with no guarantees of completeness, accuracy, usefulness or timeliness.