Horseshoe
Stearns County, MN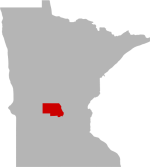 SHARE THIS PAGE
Horseshoe is located in
Stearns County, Minnesota
. This lake is 627 acres in size. It is approximately 57 feet deep at its deepest point. When fishing, anglers can expect to catch a variety of fish including Black Bullhead, Bluegill, Brown Bullhead, Channel Catfish, Largemouth Bass, Northern Pike, Smallmouth Bass, Walleye, Yellow Bullhead, Yellow Perch, Pumpkinseed,.
Boat Ramp
Black Bullhead
Black Crappie
Bluegill
Brown Bullhead
Channel Catfish
Largemouth Bass
Logperch
Northern Pike
Smallmouth Bass
Walleye
Yellow Bullhead
Yellow Perch
Bluntnose Minnow
Bowfin
Brook Silverside
Carp
Cisco (Tullibee)
Common Shiner
Golden Redhorse
Golden Shiner
Greater Redhorse
Hybrid Sunfish
Johnny Darter
Pumpkinseed
Shorthead Redhorse
Silver Redhorse
Spotfin Shiner
Tadpole Madtom
White Sucker
NOTE: This list may not be all inclusive of all speices present in Horseshoe.
HISTORY AND STATUS OF FISHERY
Horseshoe Lake is a 550 acre lake located near Richmond, in south-central Stearns County. Horseshoe Lake is part of the Sauk River Chain of Lakes (SRCL), which was formed by the dam on the Sauk River at Cold Spring. The fishery of Horseshoe Lake is managed primarily for walleye and channel catfish, although it is also a popular destination for largemouth bass, northern pike and panfish anglers.

The Sauk River drains a large portion of central Minnesota before flowing through the SRCL. The Sauk River watershed including the Long Lake sub-watershed to the south encompasses nearly 700,000 acres. Non-point source pollution continues to be a concern within the watershed; however, strides have been made to greatly reduce the amount of nitrogen and phosphorous entering the system. Even with these improvements most of the lakes within the SRCL are still classified as hyper-eutrophic.

In 2010, as part of the Long Range Muskie and Northern Pike Management Plan the MNDNR proposed stocking five new lakes with muskellunge. There was concern about the proposed muskellunge stocking in the SRCL (Cedar Island and Horseshoe lakes) by local residents and lakeshore owners. Their primary concerns were increased boat traffic, lack of public access facilities, and predation by muskies on other sportfish. However, the SRCL was one of two proposals that were approved for muskellunge management. The 2011 assessment was conducted to update data on the fishery before muskellunge stocking. One thousand-forty-two muskellunge fingerlings were stocked into Cedar Island and Horseshoe lakes (521 fingerlings each) in October 2011.

During the 1980s and 90s walleye management consisted of walleye fingerling stocking every other year. Since 2001, walleye fry have been stocked every other spring in an attempt to increase the walleye population with very good success (average: 128 young-of-the-year (yoy)/hr during fall electrofishing from 2001 - 2009). Some natural reproduction may occur within the SRCL, but does not contribute significantly to the walleye population. In 2011, the walleye catch (3.3/net) was above average for class 25 lakes and the second highest since 1980. Walleye ranged in length from 10 21 inches and averaged 14.3 inches and one pound, similar to 2003 (14.7 inches and 1.3 pounds). Thirty-seven percent of the walleye sampled were larger than 15 inches and 3% were larger than 20 inches. The largest walleye sampled was 21 inches and three pounds.

Northern pike abundance remains low (1.4/net), but above average in size. Forty-six percent of the northern pike sampled were longer than 24 inches, but none were longer than 30 inches. Northern pike sampled ranged in length from 20 29 inches and averaged 24 inches and 2.8 pounds. The largest northern pike was 29.1 inches and 5.7 pounds.

Channel catfish were stocked into Horseshoe Lake from 1976 1988 and have become abundant. Channel catfish were originally stocked to provide anglers with another angling opportunity as well as to control the bullhead population. By 1990, they had become plentiful and appeared to have displaced the bullhead species within the system. Angler complaints about the catfish abundance still persist today, although many anglers travel to the SRCL to fish for catfish. In 2011, the channel catfish catch (26.2/net) was the highest on record. Channel catfish sampled ranged from 11 28 inches and averaged 16 inches and 1.3 pounds. The largest catfish sampled was 27.8 inches and 7.7 pounds. Anglers will find many catfish in the 14 17 inch size range as these fish made up 70% of the total catfish catch.

Yellow perch abundance (0.9/net) was below expected values for the second consecutive survey and lowest on record. Yellow perch abundance had been near or above expected values for all previous surveys except the last two (2003 and 2011). Yellow perch sampled ranged from 5 8 inches and averaged about 7 inches.

Both black crappie (2.4/net) and bluegill (6.3/net) net catches have been decreasing over time, but the average size has increased. Forty-seven percent of the black crappies sampled were longer than nine inches and 43% of the bluegills sampled were longer than seven inches. The largest black crappie was 12 inches and one pound and the largest bluegill was 9.3 inches and 0.6 pounds.

Other species sampled included: black bullhead, common carp, greater redhorse, shorthead redhorse, silver redhorse, smallmouth bass, white sucker, and yellow bullhead.

NOTICE: Lake-Link Inc assumes no responsibility or liability for any errors or omissions of the information for Horseshoe. Although we strive to provide the most accurate information as we can the information contained in this page is provided on an "as is" basis with no guarantees of completeness, accuracy, usefulness or timeliness.