Big Spunk
Stearns County, MN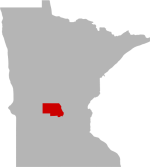 SHARE THIS PAGE
Big Spunk is located in
Stearns County, Minnesota
. This lake is 415 acres in size. It is approximately 38 feet deep at its deepest point. When fishing, anglers can expect to catch a variety of fish including Black Bullhead, Bluegill, Brown Bullhead, Green Sunfish, Largemouth Bass, Northern Pike, Rock Bass, Walleye, Yellow Bullhead, Yellow Perch, Pumpkinseed,.
Boat Ramp
Black Bullhead
Black Crappie
Bluegill
Brown Bullhead
Green Sunfish
Largemouth Bass
Northern Pike
Rock Bass
Walleye
Yellow Bullhead
Yellow Perch
Banded Killifish
Bluntnose Minnow
Bowfin
Brook Silverside
Carp
Cisco (Tullibee)
Golden Shiner
Hybrid Sunfish
Iowa Darter
Johnny Darter
Pumpkinseed
Spottail Shiner
Tadpole Madtom
White Sucker
NOTE: This list may not be all inclusive of all speices present in Big Spunk.
HISTORY AND STATUS OF FISHERY
Big (Upper) Spunk Lake is a 440-acre lake located within a mile of the City of Avon in Stearns County. Big Spunk Lake has a maximum depth of 38 feet and an average water clarity of six feet during the summer. Oxygen levels were adequate for sport fish to a depth of 18 feet during the first week of July. Big Spunk Lake has a diverse aquatic plant community growing in dense beds around the lake out to a depth of 16 feet with Chara and coontail being the most common species. There is one public access on the northwest shore of the lake with parking available for six vehicle/trailer combinations as well as a dock and portable toilet. The Big Spunk Lake watershed covers 14,811 acres with a watershed to lake surface ratio of 33.7 to 1. Land use practices within the watershed consisted of: 26% agriculture, 26% forest, 19% hay/pasture, 11% open water, 7% grassland, 6% wetland, and 5% residential. Emergent and floating leaf vegetation was mapped and covered approximately 73% of the shoreline with cattail and yellow waterlily being the most common. Near shore Index of Biotic Integrity sampling and emergent and floating leaf vegetation mapping were also completed to evaluate the physical habitat of Big Spunk Lake. A standard summer survey was conducted in 2016 to monitor any changes in the fishery since the last survey conducted in 2008.

The gill net catch of Northern Pike remained above the normal range and above the long term average for Big Spunk Lake. Pike ranged from 12 to 30 inches and averaged 21 inches and two pounds. Twenty percent of Northern Pike sampled were longer than 24 inches. Anglers are encouraged to harvest the small pike (under 22 inches) and release the larger ones to help achieve a more balanced fish community and to improve growth rates. Lower pike numbers may also increase Walleye stocking success and allow Yellow Perch numbers (which are low) to increase. Higher perch populations are desirable as they are an important prey species for both Walleye and Northern Pike.

Big Spunk Lake has been stocked with Walleye fingerlings every other year for several decades. The gill net catch of Walleye in 2016 increased from the 2008 survey and was within the range of what we would expect to see for similar lakes. Walleye ranged in length from 18 to 27 inches and averaged 21 inches and 2.7 pounds. Growth of Walleye was similar to statewide averages as Walleye reach 18 inches in five years.

There is an excellent Largemouth Bass population with a wide range of sizes available to anglers including fish up to 20 inches. A total of 141 Largemouth Bass were sampled in 1.7 hours of electrofishing in May 2016. This was above the average catch rate for lakes in the Sauk Rapids Management Area and very similar to what was reported in 2008. Of the catchable size Largemouth Bass, 70% were longer than 12 inches and 28% were longer than 15 inches. Although not collected in this survey, Smallmouth Bass are also found in low numbers in Big Spunk Lake.

The Bluegill trap net catch increased in 2016 and was considered high however, Bluegill only averaged five inches and fish over seven inches were rare. Anglers can expect to catch smaller Bluegill on Big Spunk with an occasional larger one mixed in.

The Black Crappie catch increased from 2008 and equaled the long term average for the lake. Black Crappie catches are known to fluctuate widely depending on the success of spawning which is largely dependent on environmental factors. Anglers should be able to expect good fishing for Black Crappie in the next couple of years on Big Spunk as fish ranged in length from 6 to 10.5 inches with an average length of 8.5 inches. Forty-two percent of Black Crappie sampled were greater than nine inches in length.

Other species sampled during the survey were: Black Bullhead, Bowfin, Brown Bullhead, Channel Catfish, Common Carp, Green Sunfish, Hybrid Sunfish, Pumpkinseed, Rock Bass, White Sucker, and Yellow Bullhead. All of these species were sampled at rates either within or below the range of expected values for the respective Lake Class. In 2016, a 5.3 pound 22.9 inch Channel Catfish was sampled in the gill nets. This was the first time that a Channel Catfish has ever been sampled in any of the Spunk Lakes. It is likely that the Channel Catfish migrated into the lake from the Mississippi River via Spunk Creek.

Changes in shoreline development have the potential to negatively affect the health of a lake. It is important that all lake shore owners follow County shoreline rules and only mow a small area down to the lake to allow access and avoid clearing their entire shoreline. Native vegetation helps stabilize shoreline soils and acts as a buffer reducing the amount of pollution that enters a lake from runoff.

NOTICE: Lake-Link Inc assumes no responsibility or liability for any errors or omissions of the information for Big Spunk. Although we strive to provide the most accurate information as we can the information contained in this page is provided on an "as is" basis with no guarantees of completeness, accuracy, usefulness or timeliness.