Big Fish
Stearns County, MN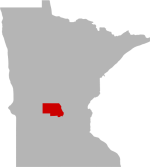 SHARE THIS PAGE
Big Fish is located in
Stearns County, Minnesota
. This lake is 557 acres in size. It is approximately 70 feet deep at its deepest point. When fishing, anglers can expect to catch a variety of fish including Black Bullhead, Bluegill, Brown Bullhead, Green Sunfish, Largemouth Bass, Northern Pike, Walleye, Yellow Bullhead, Yellow Perch, Pumpkinseed,.
Boat Ramp
Black Bullhead
Black Crappie
Bluegill
Brown Bullhead
Green Sunfish
Largemouth Bass
Northern Pike
Walleye
Yellow Bullhead
Yellow Perch
Banded Killifish
Blackchin Shiner
Blacknose Shiner
Bluntnose Minnow
Bowfin
Brook Stickleback
Carp
Golden Shiner
Hybrid Sunfish
Iowa Darter
Johnny Darter
Least Darter
Pumpkinseed
Spotfin Shiner
Spottail Shiner
Tadpole Madtom
White Sucker
NOTE: This list may not be all inclusive of all speices present in Big Fish.
HISTORY AND STATUS OF FISHERY
Big Fish Lake, located 5 miles north of Cold Spring in central Stearns County, is a scenic, clear water lake that offers a variety of angling and recreational opportunities. It has a maximum depth of 70 feet and a small watershed with a high percentage of undeveloped forest and grassland and a modest amount of cultivated farmland. A public access is located on the north side of the lake and offers two tiers of parking. The lake supports a diverse aquatic plant community that provide important fish habitat as well as shoreline protection from erosion. Some of the more common submergent plant species include: coontail, northern watermilfoil, flatstem pondweed, water celery, and Canada waterweed. Curly leaf pondweed has historically been rare and was found growing at our near the surface on less than 1% of the lake. Emergent and floating leaf vegetation was found along 16.7% of the shoreline with cattail and white waterlily being the most common species. In 2015, the water quality of Big Fish Lake was excellent with an average clarity of 14 feet. Anglers can expect plenty of action for small Bluegill and Northern Pike, excellent Largemouth Bass fishing, as well as the potential for quality sized Black Crappie and Walleye.

Northern Pike are abundant in Big Fish Lake and consist mainly of small "hammer handles". These predators have largely exhausted their forage which consists primarily of Yellow Perch, White Sucker, and small Walleye. This is likely why there are very few perch and suckers in Big Fish Lake and why Walleye stocking has had limited success. To address this problem, an experimental 24 to 36 inch protected slot limit was placed on Northern Pike in 2005. This regulation requires the immediate release of all pike between 24 and 36 inches with one pike over 36 inches allowed in possession. The objective of the regulation was to improve the size structure of the pike population. A standard summer survey along with a spring ice out survey was conducted in 2015 in an attempt to evaluate the effectiveness of the experimental regulation which has been in place for 10 years. In addition, a special Bluegill assessment was completed in June to evaluate the size structure of spawning Bluegills. Other sampling during the year included: near shore IBI sampling looking for sensitive minnow species, a point intercept aquatic plant survey, curly leaf pondweed mapping and emergent and floating leaf vegetation mapping to evaluate the physical habitat of Big Fish Lake.

The targeted ice out survey began on April 7th, 2015 when a large percentage of the lake was still covered in ice. A total of 514 Northern Pike were sampled, and although pike up to 34 inches were found, the average length was only 17.1 inches. The percentage of Northern Pike longer than 24 inches was 2.9%, compared to previous ice out surveys from 2010 (6.9%), and 2005 (3.3%). The results of the summer survey were more encouraging as the catch rate of Northern Pike decreased significantly from the all time high catch rate observed in 2010. However, the catch remained above management goals. Northern Pike ranged in length from 10 to 35 inches and averaged 17.4 inches and 1.4 pounds. This was a small improvement from previous surveys. Recruitment of small Northern Pike remained high however, as 19 percent of pike sampled were less than 14 inches in length. The future of the special pike regulation is uncertain and public input meetings will be held to decide what course of action to take.

The net catch of Walleye in 2015 was less than half the expected rate for similar lakes but was similar to 2010. Walleye ranged in length from 9.2 to 25.7 inches with an average length and weight of 18.3 inches and 2.4 pounds. Growth rates of Walleye appear good but are limited by small sample sizes.

Largemouth Bass were sampled by night electrofishing in the spring of 2015 and the catch was similar to the average night time catch for lake in the Montrose Management Area. Largemouth Bass ranged in length from 4.6 to 17.6 inches with an average length of 10.7 inches. Twenty eight percent of the catchable size (greater than eight inches) bass were greater than 12 inches, however only nine percent of the catchable size bass were greater than 15 inches long.

The trap net catch of Bluegill had been trending downward over each of the previous four surveys but catch rates of Bluegill increased in 2015. While the Bluegill average size in the July survey was only 5.8 inches, a spring survey showed that a few quality size Bluegill up to nine inches can be found. Seasonal differences in trap net catches for panfish related to size and abundance have to do with water temperatures and the completion of spawning. Generally catches are not as good during the summer due to the fact that larger mature fish move into deeper, cooler water where they are not sampled as well by trap nets that are set in shallow water near the shore. Black Crappies have historically been sampled in low numbers in Big Fish Lake and this was the case again in 2015. Although few were sampled, quality fish up to 12.4 inches were observed.

Near shore IBI sampling was used to survey small minnow species that are sensitive to changes in water quality. During the near-shore sampling the following sensitive species were collected: Iowa Darter, Johnny Darter, Banded Killifish, Blackchin Shiner, Spotfin Shiner, and Spottail Shiner. The presence of these species is an indicator that Big Fish Lake has good water quality and habitat. Changes in shoreline development have the potential to negatively affect the health of a lake. It is important that all lake shore owners follow County shoreline rules and only mow a small area down to the lake to allow access and avoid clearing their entire shoreline. Native vegetation helps stabilize shoreline soils and acts as a buffer reducing the amount of pollution that enters a lake from runoff.

NOTICE: Lake-Link Inc assumes no responsibility or liability for any errors or omissions of the information for Big Fish. Although we strive to provide the most accurate information as we can the information contained in this page is provided on an "as is" basis with no guarantees of completeness, accuracy, usefulness or timeliness.