Wynne
St. Louis County, MN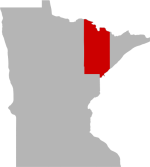 SHARE THIS PAGE
Wynne is located in
St. Louis County, Minnesota
. This lake is 278 acres in size. It is approximately 52 feet deep at its deepest point. When fishing, anglers can expect to catch a variety of fish including Black Bullhead, Bluegill, Northern Pike, Pumpkinseed, Rock Bass, Walleye, Yellow Bullhead, Yellow Perch,.
Boat Ramp
Black Bullhead
Black Crappie
Bluegill
Northern Pike
Pumpkinseed
Rock Bass
Walleye
White Sucker
Yellow Bullhead
Yellow Perch
Cisco (Tullibee)
Common Shiner
Emerald Shiner
Finescale Dace
Golden Shiner
Iowa Darter
Johnny Darter
Logperch
Shorthead Redhorse
Spottail Shiner
NOTE: This list may not be all inclusive of all speices present in Wynne.
HISTORY AND STATUS OF FISHERY
Wynne Lake is a 278 acre lake located just northwest of the city of Biwabik. It is accessed by a ramp on the north end of the lake. It has a maximum depth of 52 feet and dark brown water. in August 2016, oxygen levels were adequate for fish to a depth of 27 feet. Wynne Lake is relatively developed with year round and seasonal homes although many are set back from the lake shore with good natural riparian buffers. Lake bottom substrates along the shoreline are boulder/rubble, sand and gravel. Due to the riverine nature of Wynne Lake, the shoreline drops off quite quickly to deep water in much of the lake. Vegetation is fairly sparse and only grows in some of the shallowest areas of a few bays. The Embarrass River enters the lake on the north end and empties out the southwest corner. Fish may move between Wynne and Sabin Lake (upstream) through a narrows that is navigable by boat except in low flow periods. This standard survey consisted of gillnet and trapnet sets. This is the ninth fisheries investigation on Wynne Lake, the first dates back to 1973. Fish species sampled in gill nets were walleye, cisco, white sucker, northern pike, yellow perch, rock bass, and black crappie. Additional fish species sampled in trap nets were bluegill, yellow bullhead, and shorthead redhorse. During the 2016 survey, 19 walleye were sampled in gill nets for a catch rate of 2.1 fish/net, which was low compared to other similar lakes but average for Wynne Lake. Walleye lengths ranged from 7 to 27 inches with an average just shy of 12 inches. The average weight per fish was 1 pound. Walleye growth was extremely slow compared to other lakes in the area. The average four year old walleye was just under 12 inches long. Ages ranged from 1 to 14 but nearly 90% of the fish were four years old or younger. Walleye have not been stocked in Wynne Lake since 1989. The northern pike gillnet catch was 0.7 fish/net which was tied for the lowest on record for the lake. Lengths ranged from 18 to 22 inches with an average of 20 inches. The average weight was just under two pounds. Four black crappie were sampled, two in gill nets and two in trap nets. Lengths from all four fish ranged from to 5 to 12 inches. Three of the fish were larger than 9.5 inches. Seven bluegill were sampled for a trapnet catch rate of 0.8 fish/net which was low compared to other similar lakes. Sizes were good however, with a range from just under 7 to just over 8 inches. The average weight was nearly a half a pound. Cisco numbers in 2016 (1.1 fish/gill net) were on par with most of the previous surveys. Fish were small with an average weight of 1/10 of a pound and lengths ranging from 6 to 11 inches. Other species sampled but in low numbers were yellow perch, white sucker, rock bass, shorthead redhorse, and yellow bullhead. Some yellow perch were infested with yellow grub, but all the rest of the fish species appeared relatively clean. Thirteen Rusty crayfish (Orconectes rusticus), an invasive species, were sampled for the first time in Wynne Lake.
NOTICE: Lake-Link Inc assumes no responsibility or liability for any errors or omissions of the information for Wynne. Although we strive to provide the most accurate information as we can the information contained in this page is provided on an "as is" basis with no guarantees of completeness, accuracy, usefulness or timeliness.