Eagles Nest #3
St. Louis County, MN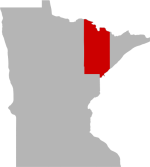 SHARE THIS PAGE
Eagles Nest #3 is located in
St. Louis County, Minnesota
. This lake is 1,028 acres in size. It is approximately 49 feet deep at its deepest point. When fishing, anglers can expect to catch a variety of fish including Bluegill, Largemouth Bass, Northern Pike, Rock Bass, Smallmouth Bass, Walleye, Yellow Perch, Pumpkinseed,.
Boat Ramp
Black Crappie
Bluegill
Largemouth Bass
Logperch
Northern Pike
Rock Bass
Smallmouth Bass
Walleye
Yellow Perch
Blacknose Shiner
Bluntnose Minnow
Burbot
Golden Shiner
Hybrid Sunfish
Iowa Darter
Johnny Darter
Mimic Shiner
Mottled Sculpin
Pumpkinseed
Rainbow Smelt
Spottail Shiner
White Sucker
NOTE: This list may not be all inclusive of all speices present in Eagles Nest #3.
HISTORY AND STATUS OF FISHERY
Eagles Nest Lake 3 (EN3) is located approximately 9 miles NE of Tower. EN3 is similar to the other Eagles Nest Lakes and is moderately developed with homes and cabins. The boundaries of Bear Head Lake State Park include a portion of EN3 near the SE side. There is a public access with a concrete planked boat ramp located near the SE end that is also within the park and a park sticker must be purchased to use this landing. Boaters should use caution on EN3 with a number of shallow rock reefs being present, most of which are unmarked. There have been changes occurring to the aquatic community of EN3 as indicated by the results of the last several surveys. In 2015, the fish community was sampled by gill nets, trap nets, smelt gill nets and night electrofishing targeting bass. Walleye were the most common species sampled in the gill nets (38%) even though the catch was the lowest since the 1995 survey. However, smallmouth bass numbers in the electrofishing sample were at a record high in 2015. Smelt and rusty crayfish are non-native species that were likely unintentionally introduced as bait in the Eagles Nest chain. Smelt spawn in the outlet of EN3 where the fish run upstream from Eagles Nest 2. Since 1984, there has been only year smelt were sampled in Eagles Nest 3. Three smelt were caught in 2005. Rusty crayfish numbers in 2015 were below the historic average and have been declining since the peak of 247.0/gill net in 2000. The lake has experienced a loss of submerged aquatic vegetation from the high population of rusty crayfish and it appears that the some of the fish community has suffered from this loss of habitat. Walleye abundance in 2015 was average for all surveys on this lake and higher than the average of 5.0/gill net for similar type lakes. The average walleye sampled was 14 inches long and about 4 years old. The largest walleye sampled was nearly 29 inches long. Approximately eighty-one percent of the walleye sampled were between the ages of 1 and 5. All walleye on EN3 are due to natural reproduction. Crayfish were observed in some of the walleye stomach samples. Smelt would typically be found in walleye stomachs if present also and this has not been observed. Five other species were sampled in the gill nets in 2015 including smallmouth bass, northern pike, yellow perch, rock bass and white sucker. Northern pike numbers were below average, however the average length of 27 inches was above average and the largest pike sampled was nearly 40 inches in length. Rock bass was the most common species sampled from the trap nets in 2015. Only one bluegill was sampled and this species has been declining in abundance since the 2000 survey when over 400 bluegill were sampled in the trap nets. Similarly, neither black crappie nor pumpkinseed have been sampled since the early 2000's. The rusty crayfish population peak coincided with a dramatic decrease in submerged aquatic plant abundance likely contributing to the observed changes in the panfish community. Smallmouth bass abundance based on electrofishing was well above the historic average of 13.4/hr. The average smallmouth sampled was almost 14 inches long which is larger than the historic average length of 11 inches. Smallmouth were sampled up to 20 inches long. Largemouth bass were also sampled by electrofishing. Largemouth numbers were much lower than the historic average of 5.8/hr. The average largemouth sampled was 15 inches which is larger than the average of 12 inches. The biggest largemouth sampled was almost 20 inches long.
NOTICE: Lake-Link Inc assumes no responsibility or liability for any errors or omissions of the information for Eagles Nest #3. Although we strive to provide the most accurate information as we can the information contained in this page is provided on an "as is" basis with no guarantees of completeness, accuracy, usefulness or timeliness.