Big
Sherburne County, MN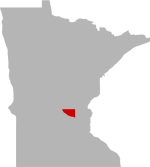 SHARE THIS PAGE
Big is located in
Sherburne County, Minnesota
. This lake is 254 acres in size. It is approximately 48 feet deep at its deepest point. When fishing, anglers can expect to catch a variety of fish including Black Bullhead, Bluegill, Green Sunfish, Largemouth Bass, Northern Pike, Walleye, Yellow Bullhead, Yellow Perch, Pumpkinseed,.
Boat Ramp
Black Bullhead
Black Crappie
Bluegill
Green Sunfish
Largemouth Bass
Northern Pike
Walleye
Yellow Bullhead
Yellow Perch
Bluntnose Minnow
Carp
Golden Shiner
Hybrid Sunfish
Pumpkinseed
Shorthead Redhorse
Spotfin Shiner
White Sucker
NOTE: This list may not be all inclusive of all speices present in Big.
HISTORY AND STATUS OF FISHERY
Big and Mitchell Lakes are located within city of Big Lake in Sherburne County. The two lakes are connected by a narrow channel on the north side of Big Lake. Water quality is quite good, and the lakes are very popular for recreational use during the open water season. More than three hundred boats were counted at docks along shore in 2004, and during summer weekends the two lakes are often very busy. A survey was conducted in the summer of 2004 to assess fish populations and included spring electrofishing and summer netting. Catch rates were compared to lakes with similar characteristics as a way to evaluate the fish populations of Big and Mitchell Lakes. Results were also compared to past surveys of the two lakes to look for possible changes in the fish community. Shoreline seining was conducted to evaluate natural reproduction of prominent game fish. Watershed mapping and aquatic plant surveys were also part of the evaluation.In 2004, catch rates for northern pike more than doubled from 1994 for Big and Mitchell Lakes, and were higher than the range that is typical for lakes like these. Catch rates were also more than twice the current management target. Northern pike up to 31 inches were sampled during the summer netting, but most of the fish were 17-26 inches. Average weight was 2.1 pounds. Walleye populations have been created on Big and Mitchell Lakes by occasional stocking of fingerlings, since natural reproduction does not appear to occur. Big and Mitchell Lakes were stocked with walleye most recently in 1994 and 1997. The summer catch rate of walleye in 2004 was low, but within the normal range for lakes like Big and Mitchell. All of the walleyes sampled were found to be from years that stocking occurred. The largest age class present was from the 1994 stocking, and averaged 22.8 inches. A few individuals were determined to be from the 1990 stocking, and one individual was estimated to be from the 1986 stocking (18 years old). Growth rates were found to be slow, and varied greatly among individuals. This is probably due to the low density of suitable forage available; very few yellow perch, small white suckers or other appropriate-sized prey were sampled during the survey. Big and Mitchell Lakes are well suited for largemouth bass because of good water clarity and diverse aquatic vegetation. The bass population appeared very high in 2004, based on night electrofishing. Ninety-five bass per hour were sampled in Big Lake, while 153 bass per hour were sampled in Mitchell Lake. The median catch rate for largemouth bass in area lakes is 52/hr. The population was dominated by mid-sized fish (8-12 inches), while bass over 16 inches were rare. The catch rates of black crappies were low for both Big and Mitchell Lakes. The average size of black crappie was also low when compared to other lakes similar to Big and Mitchell. The bluegill catch on Big and Mitchell increased from 1994, and was within expected levels for lakes with similar characteristics. The average size, however, was low, and growth rates were slow. Other sunfish species (pumpkinseed and hybrid sunfish) were also sampled in 2004.

Recreational activities such as recreational boating, angling, waterfowl hunting, and diving may spread aquatic invasive species. Some aquatic invasive species can attach to boats, while others can become tangled on propellers, anchor lines, or boat trailers. Many species can survive in bilge water, ballast tanks, and motors or may hide in dirt or sand that clings to nets, buckets, anchors, and waders. Fortunately, completing simple steps can prevent the transport of aquatic invasive species.
LEARN MORE
NOTICE: Lake-Link Inc assumes no responsibility or liability for any errors or omissions of the information for Big. Although we strive to provide the most accurate information as we can the information contained in this page is provided on an "as is" basis with no guarantees of completeness, accuracy, usefulness or timeliness.