Shields
Rice County, MN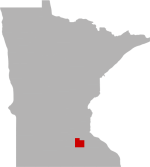 SHARE THIS PAGE
Shields is located in
Rice County, Minnesota
. This lake is 940 acres in size. It is approximately 42 feet deep at its deepest point. When fishing, anglers can expect to catch a variety of fish including Black Bullhead, Bluegill, Green Sunfish, Largemouth Bass, Northern Pike, Walleye, White Bass, White Crappie, Yellow Bullhead, Yellow Perch, Pumpkinseed,.
Boat Ramp
Black Bullhead
Black Crappie
Bluegill
Green Sunfish
Largemouth Bass
Northern Pike
Walleye
White Bass
White Crappie
Yellow Bullhead
Yellow Perch
Bigmouth Buffalo
Bowfin
Carp
Central Mudminnow
Emerald Shiner
Fathead Minnow
Freshwater Drum
Golden Shiner
Hybrid Sunfish
Pumpkinseed
Spottail Shiner
Tadpole Madtom
White Sucker
NOTE: This list may not be all inclusive of all speices present in Shields.
HISTORY AND STATUS OF FISHERY
Shields Lake (headwater of the Cannon River) is a 872.0 acre lake located near the Town of Shieldsville in Rice County. Residential development has disturbed and altered much of Shields Lake's shoreline. In areas with residential development, lawns are typically maintained to the water's edge and shorelines are altered with rock rip rap or sand blankets, thereby disrupting the natural riparian buffer. Remaining natural shoreline is limited to the area to the east of the boat ramp, the islands, and the west shore of the lake. A DNR owned access is located on the north shore of the lake in the northernmost bay, and a county owned access is located in McCollough Park in the north bay. The sport fish community is comprised of black crappie, bluegill, walleye, largemouth bass, northern pike and yellow perch. Shields Lake has been stocked extensively with walleyes to maintain the walleye population. Walleye (fry, fingerlings, yearlings, or adults) were stocked in 2003-2012, and the current management plans call for walleye fry to be stocked in 3 of 4 years and for walleye fingerlings to be stocked in the fall of those years if the fry stocking is unsuccessful. A population assessment was conducted on 7-9-2012 to monitor the sport fish populations in Shields Lake using 5 gill nets and 12 trap nets. Additionally a near shore survey (Index of Biotic Integrity; IBI) was conducted on 8-17-2012 to assess populations of non-game species and young-of-the-year (YOY) sport fish using backpack electrofishing and seining.

Water quality metrics were collected on 7-9-2012. Shields Lake was experiencing an algae bloom as the water appeared brown/green, and had a secchi depth of 2.5 ft. Dissolved oxygen ranged from 8.0 ppm at the surface to 0.1 ppm at 20.0 ft. Thermal stratification of the water column occurred between 13 and 14 ft of depth as evidenced by a drop in temperature from 82.0 to 78.8 degrees Fahrenheit.

Primary management species on Shields Lake include bluegill and black crappie. Bluegill catch rates were low in 2012 at 6.1/trap net, which is low compared to similar lakes. Historic catch rates indicate that bluegill have never been abundant in Shields Lake, as catch rates since 1981 have not exceeded the median value (23.1/trap net) for similar lakes. Age estimates indicated that there were 5 year classes of bluegill sampled in Shields Lake (2007-2011), with age-3 or younger fish representing 88% of the bluegill captured. Size structure of trap netted bluegill was small, ranging in length from 2.9 to 8.5 inches and averaging 5.2 inches. Bluegills captured in gill nets were larger ranging in length from 5.1 to 8.9 inches and averaging 7.1 inches. Bluegill growth was good, averaging 3.5 inches at age-1, 5.7 inches at age-2, 6.9 inches at age-3, 7.9 inches at age-4, and 8.7 inches at age-5. Age-0 bluegills were very abundant during fall electrofishing, which may produce a strong year class for angling.

Since 2001, black crappie catch rates have declined from 23.4/trap net, to 3.7/trap net in 2006, to 0.3/trap net in 2012, which was the lowest observed catch rate for black crappie on Shields Lake. The 2012 catch rate of 0.3/trap net was low when compared to similar lakes. At their peak in 1981, black crappie attained a catch rate of 53.3/trap net. Aging structures indicated that 4 year classes were sampled (2008-2011), with age-2 black crappies representing 43% of black crappie sampled. Ninety-six percent of the black crappies sampled were less than 8.5 inches in length, indicating poor black crappie size structure.

Secondary management species include walleye, northern pike and largemouth bass. Walleye catch rates have historically been low in Shields Lake, never surpassing a catch rate of 7.3/gill net (1993). The trend continued in 2012, as walleye were caught at a rate of 1.0/gill net, which was low when compared to similar lakes and was the lowest walleye catch rate documented on Shields Lake. Three year classes of walleye were present and corresponded to 3 stocking events in 2006, 2009, and 2010. Walleye averaged 15.1 inches at age-2 and 18.8 inches at age-3, indicating very fast growth. Walleye catch rates did not exceed the 6.0/gill net threshold; therefore management goals were not met.

Northern pike catch rates have been invariable in Shields Lake for the last 3 decades, varying between 0.4 and 5.4/gill net. In 2012, northern pike were captured at a rate of 5.2/gill net, which is good when compared to similar lakes. Two year classes were sampled, with age-3 northern pike comprising 81% of the sample. Northern pike size structure was small, ranging from 19.0 to 27.7 inches in length and averaging 22.5 inches.

Yellow perch catch rates have varied from 3.6/gill net in 1981 to 140.6/gill net in 1987. The 2012 catch rate fell within this range at 23.0/gill net, which is moderately high when compared to similar lakes. Aging structures indicated the presence of 4 year classes in the sample (2007-2011), with age-3 perch representing 46% of the sample. Size structure of yellow perch was small, as they ranged from 5.4 to 10.3 inches in length and averaged 7.8 inches. Sixty percent of yellow perch sampled were less than 8.0 inches long.

The 2012 freshwater drum trap net catch rate (9.2/trap net) decreased since the 2006 assessment (17.3/trap net), which is high when compared to similar lakes. Historically, freshwater drum have been very abundant in Shields Lake as net catches have commonly surpassed expectations.

Bowfin (or dogfish as they are sometimes referred to) were also abundant in 2012, as gill net (8.0/gill net) and trap net (7.3/trap net) catch rates were high compared to similar lakes. For both gears, the observed catch rates were the highest that have been documented for this species on Shields Lake.


In the past, yellow bullhead occurred at low numbers, with catch rates not exceeding 5.1/gill net (1998). Yellow bullhead were abundant in 2012 and were captured at a rate of 15.8/gill net, which is high when compared to similar lakes. The largest yellow bullhead caught measured 15.2 inches.

Common carp were captured at a rate of 3.0/trap net, increasing from 0.8/trap net in 2006. The 2012 common carp catch rate is the 3rd highest catch rate that has been observed on Shields Lake.

Black bullhead catch rates have varied on Shields Lake, ranging from 0.4/gill net in 1981 to 111.5/gill net in 1993. The 2012 black bullhead catch rate was 55.8/gill net, which was the 2nd highest documented catch rate, and is high when compared to similar lakes. Black bullheads ranged from 5.3 to 14.1 inches in length and averaged 9.9 inches.

White bass, golden shiner, hybrid sunfish, largemouth bass, and pumpkinseed were present, but occurred in low numbers.

Backpack electrofishing and seining (10 ft or 50ft) was conducted at 12-100ft stations around the perimeter of Shields Lake. Nearshore IBI sampling captured several species of fish including black bullhead (N=40), black crappie (N=50), bluegill (N=132), bowfin (N=1), common carp (N=16), fathead minnow (N=11), freshwater drum (N=1), golden shiner (N=53), largemouth bass (N=176), northern pike (N=1), pumpkinseed (N=14), yellow perch (N=140), central mudminnow (N=3), green sunfish (N=12), hybrid sunfish (N=1), tadpole madtom (N=1), Sunfish spp. (N=10), bigmouth buffalo (N=1), spottail shiner (2), and yellow bullhead (N=4). Nearshore catches will be used to develop an IBI score which is indicative of the health of Shields Lake.

Anglers can help maintain or improve the quality of fishing by practicing selective harvest. Selective harvest allows for the harvest of smaller fish for table fare, but encourages release of medium- to large-sized fish. Releasing these fish can help maintain balance in the fish community and provide anglers the opportunity to catch more and larger fish in the future.

Shoreline areas on the land and into the shallow water provide essential habitat for fish and wildlife that live in or near Minnesota's lakes. Overdeveloped shorelines cannot support the fish, wildlife, and clean water that are associated with natural undeveloped lakes. Shoreline habitat consists of aquatic plants, woody plants, and natural lake bottom soils.

Plants in the water and at the water's edge provide habitat, prevent erosion, and absorb excess nutrients. Shrubs, trees, and woody debris such as fallen trees or limbs provide good habitat both above and below the water and should be left in place. By leaving a buffer strip of natural vegetation along the shoreline, property owners can reduce erosion, help maintain water quality, and provide habitat and travel corridors for wildlife.


Recreational activities such as recreational boating, angling, waterfowl hunting, and diving may spread aquatic invasive species. Some aquatic invasive species can attach to boats, while others can become tangled on propellers, anchor lines, or boat trailers. Many species can survive in bilge water, ballast tanks, and motors or may hide in dirt or sand that clings to nets, buckets, anchors, and waders. Fortunately, completing simple steps can prevent the transport of aquatic invasive species.
LEARN MORE
NOTICE: Lake-Link Inc assumes no responsibility or liability for any errors or omissions of the information for Shields. Although we strive to provide the most accurate information as we can the information contained in this page is provided on an "as is" basis with no guarantees of completeness, accuracy, usefulness or timeliness.