Big Pine
Otter Tail County, MN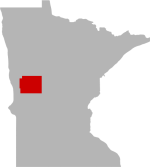 SHARE THIS PAGE
Big Pine is located in
Otter Tail County, Minnesota
. This lake is 4,726 acres in size. It is approximately 76 feet deep at its deepest point. When fishing, anglers can expect to catch a variety of fish including Black Bullhead, Bluegill, Brown Bullhead, Green Sunfish, Largemouth Bass, Northern Pike, Rock Bass, Smallmouth Bass, Walleye, Yellow Bullhead, Yellow Perch, Pumpkinseed,.
Boat Ramp
Black Bullhead
Black Crappie
Bluegill
Brown Bullhead
Green Sunfish
Largemouth Bass
Northern Pike
Rock Bass
Smallmouth Bass
Walleye
Yellow Bullhead
Yellow Perch
Bowfin
Burbot
Carp
Cisco (Tullibee)
Freshwater Drum
Golden Shiner
Hybrid Sunfish
Pumpkinseed
Shorthead Redhorse
White Sucker
NOTE: This list may not be all inclusive of all speices present in Big Pine.
HISTORY AND STATUS OF FISHERY
Big Pine Lake is a 4,730-acre mesotrophic (moderately fertile) lake located in northeastern Otter Tail County approximately three miles east of Perham, MN. Big Pine Lake is part of the Otter Tail River Watershed and is connected to Little Pine and Rush Lakes via the Otter Tail River. The Otter Tail River inlet is located along the northwest shoreline while the outlet is located along the west shoreline of the lake. Minnesota DNR controlled dams at the outlets of Little Pine and Big Pine Lakes impede navigability between this chain of lakes. The immediate watershed is composed primarily of mixed hardwoods. The maximum depth of Big Pine Lake is 76 feet; however, fifty percent of the lake is less than 15 feet in depth. The secchi disk reading during the 2011 lake survey was 5.1 feet. Previous secchi disk readings have ranged from 4.5 to 8.5 feet.
The shoreline of Big Pine Lake has been extensively developed. Homes, cottages, and resorts compose the majority of the development. The 1992 lake resurvey referenced nine resorts and approximately 202 homes/cottages. DNR owned concrete public water accesses are located along the northwest and southeast shorelines of the lake. A DNR owned earthen public water access is located along the north shoreline. The shoal water substrates consist primarily of sand and rubble. Stands of hardstem bulrush, common cattail, and wild rice are scattered along the entire shoreline of the lake; however, the largest stands are along areas that haven't been highly developed and are located on the east, west and south shorelines. Emergent aquatic plants such as bulrush, cattail, and wild rice provide valuable fish and wildlife habitat, and are critical for maintaining good water quality. Emergent plants provide spawning areas for fish such as northern pike, largemouth bass, and panfish. They also serve as important nursery areas for all species of fish. Because of their ecological value, emergent plants may not be removed without a DNR permit. To maintain the excellent angling that this lake has to offer, it is imperative to preserve the quality of the aquatic habitat.
Big Pine Lake is a popular angling lake. The lake has a reputation as one of the premier walleye angling lakes in Otter Tail County. Black crappie, northern pike, and yellow perch are also abundant. The prolificacy of these species can be attributed to the abundance of suitable spawning habitat that is available.
Walleye is a primary management specie in Big Pine Lake. Walleye abundance has historically been high in Big Pine Lake. Walleyes ranged in length from 6.8 to 25.5 inches with an average length and weight of 13.1 inches and 0.9 pounds. Age and catch data indicate that the 2007, 2008, 2009, and 2010 year classes are strong. These strong year classes should provide excellent walleye angling for several years. Age and catch data from recent lake surveys indicate that walleye natural reproduction and recruitment is substantial enough to consistently sustain the walleye population at or above DNR long range management goals. Walleyes attain an average length of 14.7 inches at four years of age.
An experimental walleye regulation was implemented on May 10, 2003. The regulation is an 18.0 to 26.0 protected slot limit with one walleye over 26.0 inches allowed in possession. The intent of this regulation is to improve the size structure of the walleye population in Big Pine Lake. The regulation will be in effect for ten years during which time its effectiveness will be evaluated.
Northern pike population characteristics have demonstrated stability over the recent series of lake surveys. The pike population has remained at a moderate density and natural reproduction has continued to be consistently good. Northern pike ranged in length from 12.9 to 34.6 inches with an average length and weight of 21.1 inches and 2.3 pounds. Pike exhibit fast growth rates with an average length of 25.8 inches at four years of age.
Historical catch and length data indicate that yellow perch size structure fluctuates. Eighteen percent of the perch in this assessment were 8.0 inches or greater in length.
Anglers can also maintain the quality of angling in Big Pine Lake by practicing selective harvest. Selective harvest encourages the release of medium to large-size fish while allowing the harvest of the more abundant smaller fish for table fare. Releasing the medium to large fish will ensure that the lake will have enough spawning age fish on an annual basis and will provide anglers with more opportunities to catch large fish in the future.

NOTICE: Lake-Link Inc assumes no responsibility or liability for any errors or omissions of the information for Big Pine. Although we strive to provide the most accurate information as we can the information contained in this page is provided on an "as is" basis with no guarantees of completeness, accuracy, usefulness or timeliness.