Currant
Murray County, MN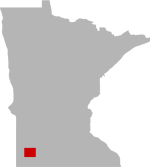 SHARE THIS PAGE
Currant is located in
Murray County, Minnesota
. This lake is 406 acres in size. It is approximately 10 feet deep at its deepest point. When fishing, anglers can expect to catch a variety of fish including Black Bullhead, Bluegill, Brown Bullhead, Green Sunfish, Northern Pike, Walleye, Yellow Bullhead, Yellow Perch,.
Boat Ramp
Black Bullhead
Black Crappie
Bluegill
Brown Bullhead
Green Sunfish
Northern Pike
Walleye
Yellow Bullhead
Yellow Perch
Bigmouth Buffalo
Carp
Fathead Minnow
Orangespotted Sunfish
White Sucker
NOTE: This list may not be all inclusive of all speices present in Currant.
HISTORY AND STATUS OF FISHERY
Currant Lake is located southwest of Balaton in Murray County, has a surface area of 394 acres, a maximum depth of 9.5 feet, and is in DNR lake class 43. Minnesota DNR fisheries classify lakes with similar characteristics, such as size, depth, water chemistry, and other metrics on a statewide basis for comparison of fish communities. It is managed primarily for walleye, and secondarily for yellow perch and black crappie. Although crappies are doing well, survival of young walleye may have been impacted by predation from them and also black bullheads. Other factors, such as poor water quality, high carp and bullhead populations, and a partial winterkill in 2010, may be affecting the top level predators (i.e. walleye). To assess existing fish populations and management objectives, a test netting survey utilizing 3 gill nets and 9 trap nets was conducted during the week of June 24, 2013 with the following results.

The walleye catch rate of 1.0 per gill net was the third lowest on record since gill net surveys began in 1984. Walleye abundance in trap nets (3.3 fish per net) was just slightly above the long term average of 3.0 per net for this lake. Walleye lengths from both gear types ranged from 9.0 to 27.0 inches, but the majority were about 12 inches long. Only three walleye were aged by counting annual growth rings on an internal bony structure called an otolith. These fish were all three years old, which would correspond to a fry stocking in 2010. Walleye numbers have never been very high in Currant with a peak catch of 6.6 per gill net in the 1993 survey. Growth rates for walleye appear to be slow compared to other area lakes. Black crappie populations can negatively influence walleye growth and abundance.

Yellow perch catch rates of 4.7 per gill net were near the long term average of 5.0 per net during seven prior surveys since 1984. The trap net catch rate was just under 1.0 per net which was near the long term average for this lake. Perch from both gear types ranged from 7.0 to nearly 10.0 inches long, with near normal growth rates. Although no perch were aged for this assessment, using length frequency there appears to be one year class present. They should be sufficient in size and numbers to successfully spawn and increase future populations for anglers.

Black crappie catch rates of 17.5 per trap net were just under the long term average of 20.5 per net for this lake. Lengths of crappie ranged from 6.5 to 11.2 inches with a mean length of 8.3 inches. Based upon length frequency groupings, there are at least three year classes of crappie present. Growth rates were also excellent with crappie in good health. These robust fish should provide anglers with consistent crappie fishing for several years.

Black bullhead numbers in trap nets have risen dramatically since the 2009 survey from 2.2 per net then, to 77.8 per net currently. Lengths of bullhead in both gear types ranged from 5.7 to 10.0 inches and should be targeted by anglers and commercial fisherman too.

Common carp populations have been very abundant since the 1993 survey with a long term average of 23.0 per gill net. This year's assessment captured 16.7 per gill net, with lengths ranging from 11.3 to 27.0 inches. These fish would provide an excellent opportunity for bowfishers and commercial netters.

Other fish species sampled during this assessment in low densities included bigmouth buffalo, brown bullhead, yellow bullhead, northern pike, and white sucker. Only two painted turtles were sampled in the nine trap nets.

NOTICE: Lake-Link Inc assumes no responsibility or liability for any errors or omissions of the information for Currant. Although we strive to provide the most accurate information as we can the information contained in this page is provided on an "as is" basis with no guarantees of completeness, accuracy, usefulness or timeliness.