Iowa
Martin County, MN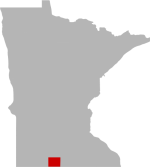 SHARE THIS PAGE
Iowa is located in
Martin County, Minnesota
. This lake is 705 acres in size. It is approximately 9 feet deep at its deepest point. When fishing, anglers can expect to catch a variety of fish including Black Bullhead, Bluegill, Northern Pike, Walleye, White Bass, White Crappie, Yellow Bullhead, Yellow Perch,.
Boat Ramp
Black Bullhead
Black Crappie
Bluegill
Northern Pike
Walleye
White Bass
White Crappie
Yellow Bullhead
Yellow Perch
Bigmouth Buffalo
Carp
Fathead Minnow
Freshwater Drum
Golden Shiner
Hybrid Sunfish
Orangespotted Sunfish
Quillback
White Sucker
NOTE: This list may not be all inclusive of all speices present in Iowa.
HISTORY AND STATUS OF FISHERY
A Minnesota - Iowa border lake, 732 acre Iowa Lake is located in Martin County and has a maximum depth of 9.4 feet. The lake is presently managed primarily for yellow perch and secondarily for northern pike, black crappie, and white crappie.Our 2005 sampling efforts revealed an impressive yellow perch population. Iowa's perch numbers are well above average for lakes with similar characteristics. Fish sampled ranged in length from just over 4 inches to just over 12 inches and appeared very well fed based on their plumpness. Yellow perch sampled averaged about 1/3 of a pound and aging of the fish revealed 4 different year classes.The northern pike population of Iowa Lake is low compared to similar lakes. Only 1 pike was sampled during the 2005 assessment. In our effort to provide a northern pike fishery, nearly 53,000 fry were stocked in 2003 and 4,000 fingerlings in 2005. We plan to continue stocking northern pike fingerlings once every three years. Iowa's black crappie population is at an all-time low, but is still well within the "normal" range for similar lakes. Sampled fish ranged in length from 4 to 11 inches and, like the perch population, were very plump and apparently having no trouble finding adequate food. The average weight of the black crappies caught during the assessment was just under 1/2 pound. Scale aging revealed 4 age classes within the lake with most of the fish sampled coming from a strong 2004 year class. Even though our results may seem to suggest that Iowa Lake's black crappie population is low, the fish are of very catchable size for anglers and quite a few nice "eaters" were seen. Iowa's population has historically been quite high compared to similar lakes and thus, 2005's "historical low" simply put the lake's black crappie population into the "normal" range.Although only 1 white crappie was sampled during the 2005 assessment, it was nearly 10 inches in length and weighed over 1/2 pound. Both crappie species (black and white) are managed together in Iowa Lake. Due to the sufficient black crappie population, no further crappie stocking is planned at this time.Black bullhead and common carp numbers in Iowa Lake are of some concern. Both species are at or near historical highs within the basin. We plan to continue to encourage commercial fishermen to harvest Iowa in an effort to control the bullhead and carp populations to the best of our ability.Other species sampled in the 2005 Iowa Lake assessment were bigmouth buffalo, orangespotted sunfish, bluegill, golden shiner, and yellow bullhead.To promote and maintain healthy fish populations, pollution and other inputs need to be controlled. Fish habitats are directly affected by water quality. Nutrient, sediment and other waste inputs can drastically alter the biological, chemical, and physical components of a lake. It is paramount to maintain if not improve the water quality of Iowa Lake through watershed management to preserve this fishery for future generations to enjoy.Prepared by Leslie George
NOTICE: Lake-Link Inc assumes no responsibility or liability for any errors or omissions of the information for Iowa. Although we strive to provide the most accurate information as we can the information contained in this page is provided on an "as is" basis with no guarantees of completeness, accuracy, usefulness or timeliness.