Budd
Martin County, MN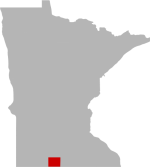 SHARE THIS PAGE
Budd is located in
Martin County, Minnesota
. This lake is 228 acres in size. It is approximately 23 feet deep at its deepest point. When fishing, anglers can expect to catch a variety of fish including Black Bullhead, Bluegill, Channel Catfish, Green Sunfish, Largemouth Bass, Northern Pike, Walleye, White Crappie, Yellow Bullhead, Yellow Perch,.
Boat Ramp
Black Bullhead
Black Crappie
Bluegill
Channel Catfish
Green Sunfish
Largemouth Bass
Northern Pike
Walleye
White Crappie
Yellow Bullhead
Yellow Perch
Bigmouth Buffalo
Carp
Fathead Minnow
Freshwater Drum
Golden Shiner
Johnny Darter
Quillback
Spotfin Shiner
Spottail Shiner
White Sucker
NOTE: This list may not be all inclusive of all speices present in Budd.
HISTORY AND STATUS OF FISHERY
Budd is a 222-acre lake with a maximum of 23 feet deep, located within the city limits of Fairmont in Martin County. Budd Lake is just one of the five lakes in Fairmont that make up what is known as the "Fairmont Chain of Lakes". Budd is managed primarily for walleye while yellow perch, crappie, and channel catfish are managed secondarily.

Based on the 2009 fish survey on Budd Lake, walleye numbers are typical of what we would see in lakes similar to Budd in water chemistry, depth, and size. Lengths of walleye caught in our gill nets in 2009 ranged from 10.1 to 25.6 inches and averaged 17.2 inches. Ages of walleye caught in our nets ranged from age 1 to age 15. There is a good number of walleye in the 10 12 inch range coming up in the fishery. These fish were more than likely the result of a walleye fingerling stocking in 2008. The Fairmont Chain of lakes, including Budd, are scheduled to get additional walleye fingerlings in the fall of 2010.

Crappie numbers are also typical of lakes similar to Budd. Both black and white crappie are available to anglers in Budd Lake as well as the entire "Chain" of lakes. Black crappie have 7-8 dorsal spines with dark splotches against a white background on their body. White crappie have 5-6 dorsal spines and black splotches that form vertical lines on their bodies. Lengths of black crappie caught in trap nets ranged from 6.3 to 10.3 inches and averaged 9.0 inches. Lengths of white crappie caught in trap nets ranged from 8.3 to 9.9 inches and averaged 9.2 inches.

Results from the 2009 fish survey indicated Budd Lake has high numbers of yellow perch available to anglers. The gill net catch rate of 39.5 fish/net was the highest recorded in the history of netting on the lake. Lengths of yellow perch caught in our gill nets ranged from 6.3 to 10.8 inches and averaged 7.6 inches.

The Fairmont Chain of lakes was stocked once with channel catfish since the reclamation in 1967 when 31 adult catfish were stocked in Hall Lake in 1992. We first started seeing channel catfish in fish surveys on Budd Lake in 1997 when one fish with a weight of 0.9 lbs was sampled in our nets. The channel catfish gill net catch rate in 2009 was 6.2 fish/net compared to 4.0 in 2001 and 0.2 in 1997. Lengths of channel catfish caught in gill nets in 2009 ranged from 12.5 to 26.2 inches and averaged 17.0 inches.

Other fish caught in our nets during the assessment in 2009 included bluegill, common carp, northern pike, and white sucker.

To maintain a healthy fishery in Budd Lake, we need to promote Best Management Practices (BMPs) within the watershed to help reduce nutrients entering the lake. High nutrients and sediments in a lake can cause algae blooms and reduce water clarity.

NOTICE: Lake-Link Inc assumes no responsibility or liability for any errors or omissions of the information for Budd. Although we strive to provide the most accurate information as we can the information contained in this page is provided on an "as is" basis with no guarantees of completeness, accuracy, usefulness or timeliness.