Dead Coon (Main Lake)
Lincoln County, MN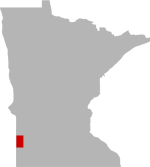 SHARE THIS PAGE
Dead Coon (Main Lake) is located in
Lincoln County, Minnesota
. This lake is 547 acres in size. It is approximately 9 feet deep at its deepest point. When fishing, anglers can expect to catch a variety of fish including Black Bullhead, Bluegill, Green Sunfish, Largemouth Bass, Northern Pike, Walleye, Yellow Perch, Pumpkinseed and.
Black Bullhead
Black Crappie
Bluegill
Green Sunfish
Largemouth Bass
Northern Pike
Walleye
Yellow Perch
Brook Stickleback
Carp
Fathead Minnow
Johnny Darter
Ninespine Stickleback
Orangespotted Sunfish
Pumpkinseed
White Sucker
NOTE: This list may not be all inclusive of all speices present in Dead Coon (Main Lake).
HISTORY AND STATUS OF FISHERY
Minnesota DNR Fisheries classifies lakes with similar characteristics, such as size, depth, water chemistry and other metrics on a statewide basis for comparison of fish communities. Dead Coon Lake is located southeast of Arco in Lincoln County, has a surface area of 547 acres, a maximum depth of 8 feet, and is in DNR lake class 43. It is managed primarily for walleye, and secondarily for yellow perch and northern pike. The lake is part of a large watershed and is connected to Lake Benton upstream and the Redwood River downstream via Coon Creek. This connection allows for fish passage in either direction, at times, especially during periods of high flow. The lake does have an aeration system, but with Coon Creek flowing through it, most years it has not been necessary to operate. A DNR owned access with dock and concrete ramp is located on the southwest corner of the lake. Additional winter access is available from the township road on the north end of the lake. To assess fish populations and evaluate the lake management plan, test netting was conducted by Windom area fisheries personnel during the week of June 17, 2013 with the following results.

Walleye abundance in gill nets at 2.7 fish per net is a historical low for this lake since gill net surveys began in 1983. The long term average number of walleye for seven prior surveys from 1983-2009 was just over 21.0 fish per net. Water transparency of 4 feet during this survey was the highest ever recorded for Dead Coon so it is possible some net avoidance by fish did occur. Trap net catch rates for walleye were also very near an all time low at less than 1.0 fish per net. Lengths of walleye from both gears ranged from 6.7 to 23 inches, with a mean length of 16.5 inches, and a mean weight of 1.9 pounds. Growth rates for walleye were about average compared to other area lakes. Walleye captured in gill nets were aged by counting growth rings on an internal bony structure called otoliths ("ear stones"). Although only eight walleye were aged during the netting, seven of them correspond to fry stockings in 2008 and 2009. The one three year old fish from 2010 may have come from natural reproduction or moved downstream from Lake Benton. The majority of the walleye sampled during this survey were longer than 14 inches, so even with a lower than average population, currently some "keepers" are available to anglers.

Catch rates for yellow perch were also the second lowest level on record at 4.3 fish per net. The majority of the perch captured ranged from 7 to 10 inches with one 13 incher present. The average weight of these fish was nearly half a pound, and growth appears to be above average. Although numbers are currently low, size structure of perch is good, and they should provide an angling opportunity for a couple of years.

With a gill net catch rate of 2.0 per net northern pike were approaching the long term average of about 3 per gill net. Lengths of all pike caught in both gill and trap nets ranged from near 21 to 27 inches with an average length of about 24 inches. The average weight of these fish was just over two and a half pounds, but growth rates were relatively slow considering the presence of a large white sucker population. The pike numbers have increased since the last survey in 2009, which is probably due to the stocking of fingerlings in 2011. The lake is scheduled to receive another fingerling stocking in 2014 which should help sustain a harvestable level of pike. Improved water clarity may also be helping the northern pike be more efficient at finding food since they are considered to be "sight" feeders.

Although not often targeted by anglers the white suckers are doing very well with a catch rate of 18 per gill net which is slightly above the long term average for this lake. Sizes ranged from 13 to 21 inches which should provide excellent northern pike forage.

Black bullheads dropped to very low levels following the 1988 survey, and have remained low since then at only 1.0 per gill net and 3.0 per trap net during this assessment.

Other species sampled in low densities included black crappies, common carp, painted turtles, and one snapping turtle. Game fish numbers are currently low according to this survey, but anglers should note that fish populations tend to rebound rapidly in fertile Southwest Minnesota prairie lakes.

NOTICE: Lake-Link Inc assumes no responsibility or liability for any errors or omissions of the information for Dead Coon (Main Lake). Although we strive to provide the most accurate information as we can the information contained in this page is provided on an "as is" basis with no guarantees of completeness, accuracy, usefulness or timeliness.