Frances
Le Sueur County, MN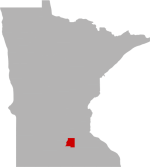 SHARE THIS PAGE
Frances is located in
Le Sueur County, Minnesota
. This lake is 927 acres in size. It is approximately 60 feet deep at its deepest point. When fishing, anglers can expect to catch a variety of fish including Black Bullhead, Bluegill, Green Sunfish, Largemouth Bass, Northern Pike, Walleye, White Bass, White Crappie, Yellow Bullhead, Yellow Perch, Pumpkinseed,.
Boat Ramp
Black Bullhead
Black Crappie
Bluegill
Green Sunfish
Largemouth Bass
Northern Pike
Walleye
White Bass
White Crappie
Yellow Bullhead
Yellow Perch
Banded Killifish
Blackchin Shiner
Bluntnose Minnow
Bowfin
Carp
Freshwater Drum
Golden Shiner
Hybrid Sunfish
Iowa Darter
Johnny Darter
Mimic Shiner
Pugnose Shiner
Pumpkinseed
Spottail Shiner
White Sucker
NOTE: This list may not be all inclusive of all speices present in Frances.
HISTORY AND STATUS OF FISHERY
Introduction
Frances Lake is an 870.0 acre lake located in LeSueur County near the Town of Elysian. Frances Lake is a mesotrophic lake that has good water quality and a diverse plant community. Residential development has disturbed and altered the majority of Frances Lake's shoreline. In areas with residential development, lawns are typically maintained to the water's edge and shorelines are altered with rock riprap or sand blankets, thereby disrupting the natural riparian buffer. Despite substantial residential development, Frances Lake has very good water quality and a diverse, abundant aquatic vegetation community. Emergent and floating leaf vegetation are relatively common, providing valuable fish habitat. A DNR owned ramp is located at the east end of the lake, and a county access is located at the west end of the lake. The sport fish community consists of Black Crappie, Bluegill, Largemouth Bass, Northern Pike, and Walleye. Walleyes have been stocked extensively in Frances Lake to maintain the Walleye population. Walleye fry, fingerlings, yearlings or adults have been stocked in 2003, 2005, 2006, 2007, 2009, 2011, 2013, and 2015. The current management plan calls for Walleye fry to be stocked at a rate of 500,000 fry every other year (odd years) and 500 pounds of fingerlings if fry stocking is unsuccessful, contingent on surplus availability. Other sport fish populations maintain their populations through natural reproduction. A standard survey was conducted on July 11, 2016 to monitor the sport fish populations in Frances Lake using 9 gill nets and 12 trap nets.

Largemouth Bass
The Largemouth Bass catch rate decreased from 91.5/hour in 2011 to 78.4/hour in 2016. However, overall sizes increased from 2011. In 2011, Largemouth Bass ranged from 3.7 to 14.1 inches in length and averaged 9.1 inches and in 2016 Largemouth Bass ranged from 2.7 to 20.5 inches in length and averaged 10.1 inches. Approximately 29% of Largemouth Bass sampled were greater than 12.0 inches long.

Bluegill
Past catches of Bluegill have consistently been between 15.0/trap net and 30.0/trap net. The 2016 catch rate (24.3/trap net) increased from the 2012 catch rate (19.0/trap net), and indicated moderate numbers were present. Nine year classes of Bluegills were sampled (2006-2014), indicating that Bluegills are long lived in Frances Lake. Lengths averaged 6.3 inches and increased from the 2012 sample (average=4.9 inches) however, growth was relatively slow compared to other area lakes.

Walleye
Walleye have historically occurred in low abundance at Frances Lake, as catch rates have ranged from 2.7/gill net in 1996 to 6.8/gill net in 1986. The 2012 catch rate fell within this range at 4.0/gill net, which was virtually unchanged from the 2012 catch rate (3.9/gill net). Seven year classes of Walleye were sampled including fish from 2008-2014 with 49% being from the 2014 year class (age-2). Walleyes ranged in length from 12.1 to 24.8 inches and averaged 17.2 inches. Walleye grew fast early in life, averaging 14.5 inches at age-3, but grew slow thereafter, with average length at age estimates being less than 20.0 inches up to age-8.

Northern Pike
Past catch rates of Northern Pike have ranged between 0.9/gill net in 1991 and 7.6/gill net in 2001. In 2016, Northern Pike were captured at a rate of 4.9/gill net, which was consistent with the 2012 catch rate of 5.4/gill net. Nine year classes of Northern Pike were sampled including fish from 2007-2015 with 57% being age-3 and age-4. The majority of the Northern Pike were small, ranging in length from 14.0 to 35.2 inches and averaging 20.1 inches. Sixty-three percent of the Northern Pike captured were less than 19.0 inches long.

Black Crappie
Catch rates of Black Crappie have historically been low in Frances Lake, not surpassing 11.9/gill net or 3.0/trap net. In 2016, Black Crappies were caught at rates of 1.7/gill net and 1.0/trap net. Gill netted Black Crappies were small, ranging from 5.5 to 11.0 inches and averaging 7.3 inches. Four year classes of Black Crappies were sampled (2011-2014), and had growth consistent with other area lakes.

Yellow Bullhead
The 2016 Yellow Bullhead catch rate (34.6/gill net) was double the 2012 catch rate (17.3/gill net). Yellow Bullheads were large, as they averaged 11.7 inches, and had a maximum length of 14.7 inches.

Other species
Black Bullhead, Brown Bullhead, Bowfin, Common Carp, Freshwater Drum, Pumpkinseed, and Hybrid Sunfish were present, but occurred in low numbers.

Anglers can help maintain or improve the quality of fishing by practicing selective harvest. Selective harvest allows for the harvest of smaller fish for table fare, but encourages release of medium- to large-sized fish. Releasing these fish can help maintain balance in the fish community and provide anglers the opportunity to catch more and larger fish in the future.

Shoreline areas on the land and into the shallow water provide essential habitat for fish and wildlife that live in or near Minnesota's lakes. Overdeveloped shorelines cannot support the fish, wildlife, and clean water that are associated with natural undeveloped lakes. Shoreline habitat consists of aquatic plants, woody plants, and natural lake bottom soils.

Plants in the water and at the water's edge provide habitat, prevent erosion, and absorb excess nutrients. Shrubs, trees, and woody debris such as fallen trees or limbs provide good habitat both above and below the water and should be left in place. By leaving a buffer strip of natural vegetation along the shoreline, property owners can reduce erosion, help maintain water quality, and provide habitat and travel corridors for wildlife.

-Sky Wigen, Fisheries Specialist

NOTICE: Lake-Link Inc assumes no responsibility or liability for any errors or omissions of the information for Frances. Although we strive to provide the most accurate information as we can the information contained in this page is provided on an "as is" basis with no guarantees of completeness, accuracy, usefulness or timeliness.