Clear
Le Sueur County, MN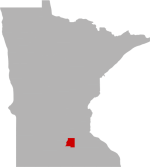 SHARE THIS PAGE
Clear is located in
Le Sueur County, Minnesota
. This lake is 279 acres in size. It is approximately 18 feet deep at its deepest point. When fishing, anglers can expect to catch a variety of fish including Black Bullhead, Bluegill, Green Sunfish, Largemouth Bass, Northern Pike, Walleye, White Crappie, Yellow Perch, Pumpkinseed and.
Boat Ramp
Black Bullhead
Black Crappie
Bluegill
Green Sunfish
Largemouth Bass
Northern Pike
Walleye
White Crappie
Yellow Perch
Freshwater Drum
Golden Shiner
Pumpkinseed
White Sucker
NOTE: This list may not be all inclusive of all speices present in Clear.
HISTORY AND STATUS OF FISHERY
Clear Lake is a 268 acre lake located in Le Sueur County near the city of Lexington. A DNR owned public access is located on the west side of the lake. Clear Lake is a shallow basin with a maximum depth of 18 feet.

Clear Lake was surveyed the week of June 24, 2013 as part of a regular monitoring program conducted by Minnesota DNR. This survey consisted of deploying trap and gill nets to assess the fish community. Bluegill was the most abundant fish species observed in this survey. Catch rates were 23.0 fish/trap net and 3.0 fish/gill net. Bluegill lengths from both net types ranged from 2.5 to 8.0 inches and averaged over 6.0 inches.

The average number of black crappies from gill nets in Clear Lake throughout the last 20 years has been over 25.0 fish/net. However, the 2013 survey yielded only 10.5 black crappies/gill net and less than 1.0 black crappie/trap net. The length of black crappie in gill nets averaged nearly 8.0 inches and ranged from 4.0 to 10.0 inches.

Historically, Clear Lake has produced strong populations of yellow perch through natural recruitment. In five of the last seven surveys conducted on Clear Lake, yellow perch catch rates were above average compared to similar lakes in the area. The 2013 survey yielded moderate yellow perch numbers, with gill nets averaging nearly 15.0 fish/net. The average length of yellow perch was nearly 7.0 inches, ranging from 5.0 to 9.5 inches.

Northern pike have been stocked in Clear Lake annually since 2007 to sustain the population. The 2013 survey averaged 6.0 fish/gill net, which was the highest northern pike abundance ever recorded at Clear Lake. Northern pike averaged over 23.0 inches and ranged from 19.0 to 28.0 inches. Ages of northern pike ranged from 2- to 5-years old, but most were from the 2010 year class (3-years old). With annual stocking and good forage available, Clear Lake should continue to develop into a quality northern pike fishery.

Based on the 2013 survey walleye abundance remained low in Clear Lake, despite stocking every other year. Gill net catch rates had been below average compared to similar lakes in the area for the last 2 survey cycles. Similarly, only 3 walleye were collected among all gill nets during 2013. With that said, the size of walleye sampled was relatively large with an average total length exceeding 19.0 inches.

Black bullhead abundance was at a modest level in 2013. Gill nets averaged 12 black bullheads per set, which was the lowest catch rate on record for Clear Lake. The size distribution of black bullheads was good with total length averaging nearly 11.0 inches.

Other fish species collected in low numbers included largemouth bass, freshwater drum, white sucker, golden shiner, and pumpkinseed.

A near shore survey (Index of Biotic Integrity; IBI) was also conducted in Clear Lake the week of June 24, 2013 to assess the populations of nongame species and young-of-the-year game fish using backpack electrofishing and beach seining. Near shore sampling collected several species of fish including black bullhead (N=23), black crappie (N=31), bluegill (N=325), fathead minnow (N=1), golden shiner (N=6), largemouth bass (N=1), northern pike (N=45). pumpkinseed (N=14), and yellow perch (N=74). Data collected from near shore sampling will be used to develop an IBI score, which is used to gauge the health of Clear Lake.

Anglers can play an important role in maintaining or improving a fish population by practicing selective harvest. Selective harvest allows for the harvest of smaller fish for consumption, while encouraging the release of medium to large fish that may contribute to natural recruitment. This practice helps maintain balance in the fish community and provides anglers the opportunity to catch more and larger fish in the future. Additionally, smaller fish often taste better and have fewer contaminants than larger, older fish from the same water body.

Shoreline property owners also play an important role in the overall health of an aquatic ecosystem, including the fish population. Natural shorelines, including vegetation, woody debris, and bottom substrates, provide valuable habitat for fish and wildlife, help maintain water quality, and reduce bank erosion. By leaving natural shorelines unaltered or restoring them to natural conditions, shoreline property owners are doing their part to maintain or improve a healthy ecosystem in the lake and protect the resource for future generations.

-Prepared by: Kip Rounds, Fisheries Specialist

NOTICE: Lake-Link Inc assumes no responsibility or liability for any errors or omissions of the information for Clear. Although we strive to provide the most accurate information as we can the information contained in this page is provided on an "as is" basis with no guarantees of completeness, accuracy, usefulness or timeliness.