Crooked
Lake County, MN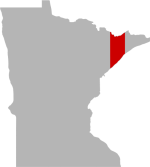 SHARE THIS PAGE
Crooked is located in
Lake County, Minnesota
. This lake is 272 acres in size. It is approximately 18 feet deep at its deepest point. When fishing, anglers can expect to catch a variety of fish including Muskie, Northern Pike, Smallmouth Bass, Walleye, Yellow Perch,.
No ramp
Muskie
Northern Pike
Smallmouth Bass
Walleye
Yellow Perch
Central Mudminnow
Iowa Darter
Johnny Darter
Mottled Sculpin
White Sucker
NOTE: This list may not be all inclusive of all speices present in Crooked.
HISTORY AND STATUS OF FISHERY
Crooked Lake is characterized as a lake class 12 lake and is located seven miles northwest of Schroeder in the Superior National Forest. The lake is 272 acres with 95% of the lake less than 15 feet and a maximum depth of 18 feet. The north and south basins of the lake are less than three feet deep, having a deep layer of suspended organic substance over the bottom. Crooked Lake is a fairly clear lake with a Secchi disk reading of 11.5 feet in 2014. Although there is a resort and a few cabins on Crooked Lake it is generally a quiet lake to visit, typical of the Finland area. Public access is a concrete ramp at the end of USFS Rd 1887. There is a small parking area present adequate for up to four vehicles with trailers. Crooked Lake Resort on the northeast side of the main lake basin, off of Lake County Road #7, also has lake access available for their guests and to the general public with permission and a fee.

Walleye were sampled in above average numbers in 2014, for northeastern Minnesota lakes with similar characteristics, and similar to recent catches on Crooked Lake. The average weight of one pound was slightly smaller than average. The largest fish sampled in 2014 was 24.8 inches and weighed 5.2 pounds with 25.5% of the catch greater than 16 inches. Ten year classes were sampled in this investigation. Age-2 a non-stocked year was the strongest year class and represented 29% of the catch with a total of 47% of the catch from non-stocked years. Growth of Walleye in Crooked Lake is faster than average for the Finland Area. Catch comparisons for all species will be based on investigations using the same amount of netting effort. Walleye fingerlings are stocked 2 consecutive years out of 4 years. Natural reproduction in Crooked Lake also contributes to the Walleye population.

The 2014 Smallmouth Bass numbers (gill net catch of 5.2/lift) were above average for lakes with similar characteristics in northeastern Minnesota. The average weight of Smallmouth Bass was 0.9 pound (10 inches) and was the largest observed recently. Six percent of the catch was greater than 15 inches. The largest Smallmouth Bass measured 18.3 inches and weighed 3.5 pounds. Smallmouth Bass growth was average by Finland Area standards. Smallmouth Bass population is maintained by natural reproduction. Since Northern Pike were documented in Crooked Lake the number of Smallmouth Bass has decreased but the size has increased.

Northern Pike were first reported to be in Crooked Lake in 1998 when one was caught by an angler. By 2002, during the next fisheries assessment, the Northern Pike population was well established. However, the number of Northern Pike caught has always been below average in Crooked Lake. In 2014, the Northern Pike gill net catch was below average again with a catch of 1.2 /lift. Mean weight of 4.2 pounds/fish was well above average; mean weights the past three investigations have consistently been above average. The largest fish sampled was 31.9 inches and weighed 7 pounds with 45% of the catch greater than 24 inches. Northern Pike population is maintained by natural reproduction. Growth is much faster than average for the Finland Area.

Muskellunge gill net catch of 0.5/lift was below average and similar to the previous three investigations. Mean weight of 7.7 pounds/fish was well above average and similar to the previous three investigations with the exception of 2010 when one fish sampled that weighed 1.5 pounds. The largest fish sampled was 36.7 inches and weighed 13.2 pounds. The Muskellunge sampled, in all investigations since the initial stocking in 1977, have rarely reached 35 inches, the largest measured only 39 inches. This growth pattern is typical of the Shoepack strain Muskellunge that were stocked in Crooked Lake, as the bulk of the adult population never exceed 28 - 30 inches. The Muskellunge numbers in recent investigations have fallen, possibly from the Northern Pike presence. Natural reproduction was sufficient in the early management to sustain the Muskellunge population. However, predation from Northern Pike on juvenile Muskellunge may now be limiting the population. Recent reproduction appears to be very sporadic. Crooked Lake is not a designated Muskellunge lake, although statewide regulations for Muskellunge do apply to Crooked Lake.

Yellow Perch gill net catch of 8.3/lift was slightly above average for Northeastern Minnesota lakes with similar characteristics. Mean weight of 0.2 pounds/fish was slightly above average and similar to the past two investigations. The largest individual sampled was 10.6 inches. Twenty percent of the total catch larger was than nine inches.


Recreational activities such as recreational boating, angling, waterfowl hunting, and diving may spread aquatic invasive species. Some aquatic invasive species can attach to boats, while others can become tangled on propellers, anchor lines, or boat trailers. Many species can survive in bilge water, ballast tanks, and motors or may hide in dirt or sand that clings to nets, buckets, anchors, and waders. Fortunately, completing simple steps can prevent the transport of aquatic invasive species.
LEARN MORE
NOTICE: Lake-Link Inc assumes no responsibility or liability for any errors or omissions of the information for Crooked. Although we strive to provide the most accurate information as we can the information contained in this page is provided on an "as is" basis with no guarantees of completeness, accuracy, usefulness or timeliness.