Andrew
Kandiyohi County, MN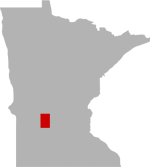 SHARE THIS PAGE
Andrew is located in
Kandiyohi County, Minnesota
. This lake is 736 acres in size. It is approximately 26 feet deep at its deepest point. When fishing, anglers can expect to catch a variety of fish including Black Bullhead, Bluegill, Brown Bullhead, Green Sunfish, Largemouth Bass, Northern Pike, Walleye, Yellow Bullhead, Yellow Perch, Pumpkinseed,.
Boat Ramp
Black Bullhead
Black Crappie
Bluegill
Brown Bullhead
Green Sunfish
Largemouth Bass
Logperch
Northern Pike
Walleye
Yellow Bullhead
Yellow Perch
Banded Killifish
Bigmouth Buffalo
Bluntnose Minnow
Bowfin
Carp
Fathead Minnow
Freshwater Drum
Golden Shiner
Hybrid Sunfish
Iowa Darter
Johnny Darter
Pumpkinseed
Shortnose Gar
Spottail Shiner
Tadpole Madtom
White Sucker
NOTE: This list may not be all inclusive of all speices present in Andrew.
HISTORY AND STATUS OF FISHERY
A standard survey of Lake Andrew was conducted in July of 2015. Andrew is a moderately sized (736 acres), moderately deep (26 feet maximum) and moderately productive lake located in Kandiyohi County. Sibley State Park is a popular recreational area located along the north and northwest shoreline areas. A bible camp is located along the east shore. Residential development has occurred throughout the entire shoreline area with the exception of the northwest portion of the lake. DNR public access sites are located along the south and northwest sides (Sibley State Park) of the lake. A shore fishing pier is located along the north shore in Sibley State Park. Water levels were below normal during the spring and fall, but normal during the summer of 2015. Water clarity (secchi reading=11.00 feet) was excellent in July of 2015. Emergent vegetation (hardstem bulrush) is abundant along the northwest bay and north shore areas of Andrew. Various submergent vegetation species (i.e. bladderwort, coontail, flat-stemmed pondweed, muskgrass, clasping-leaf pondweed, northern milfoil) are frequently occurring within the shallow areas (< 15 feet deep). Eurasian watermilfoil is present in lakes both upstream and downstream, but presently is not in Andrew. Shoalwater substrates are primarily sand, rubble, gravel and boulder with silt more common in the northwest corner of Andrew.

Black Crappie numbers were low (0.17 fish/trapnet) in 2015 as compared to the Andrew historical average (2.80 fish/trapnet). Black Crappie populations often cycle resulting in periods of boom or bust years. Black Crappie year classes have been weak in Andrew and other connected lakes during recent years. Yellow Perch numbers were also low in 2015 (4.25 fish/gillnet) compared to the historical average (21.82 fish/gillnet) and the normal range. Historically, Bluegill catch rates have been high and average sizes moderate in Andrew. However, Bluegill abundance was low in 2015 (13.67 fish/trapnet) compared to the historical average (29.09 fish/trapnet). The 2015 Bluegill average size was also small (0.15 pounds and 5.6 inches) from trapnets.

Northern Pike numbers were high in 2015 (8.50 fish/gillnet) compared to the normal range and Andrew historical average (5.35 fish/gillnet). However, the 2015 Northern Pike average size improved (2.77 pounds and 23.0 inches) compared to the historical average (2.16 pounds) from gillnets. In addition, several Northern Pike over 30 inches were captured in the 2015 survey.

Walleye numbers were moderate in 2015 (5.25 fish/gillnet) compared to the normal range, but slightly below the Andrew historical average (6.42 fish/gillnet). The 2015 Walleye average size was large (3.25 pounds and 20.7 inches) from gillnets. The Walleye population in Andrew is due primarily to stocking. Limited Walleye natural reproduction has been documented by past surveys. Andrew was recently stocked with Walleye in 2009 (27,462 fingerlings, 878 pounds; 12 yearlings, 2 pounds), 2011 (29,250 fingerlings, 1,054 pounds), 2013 (29,278 fingerlings; 890 pounds) and 2015 (9,925 fingerlings, yearlings and adults combined; 1,203 pounds). The 2011 year class comprised 41% of the 2015 Walleye survey catch.

Largemouth Bass numbers have been historically abundant in Andrew. Spring electrofishing surveys Largemouth Bass more effectively than other gears such as gillnets and trapnets. Spring electrofishing was not conducted in 2015 due to time constraints with other management activities. The last Andrew spring electrofishing survey was conducted in 2010. Abundance was low in 2010 (26.25 fish/hour) compared to the Andrew historical average (66.80 fish/hour). The 2010 Largemouth Bass average size was moderate (0.85 pounds and 11.1 inches) and similar to Andrew spring electrofishing historical average.

Other fish species of interest sampled in 2015 included low numbers of Black Bullhead (1.50 fish/gillnet), high numbers of Freshwater Drum (5.50 fish/gillnet) and no Common Carp. The Freshwater Drum historical average catch rate is 3.01 fish/gillnet for Andrew. The 2015 Freshwater Drum average size was moderate (2.53 pounds and 17.6 inches) from gillnets.

Current fish management activities on Andrew include monitoring the fish population on a periodic basis, protecting aquatic vegetation through the permit process, assisting aquatic plant management and enforcement personnel in educating boaters and monitoring access sites for potential invasive species introductions, participating in local watershed initiatives, and stocking various fish species as warranted. The Andrew fishery will be surveyed in the 2019 spring for Largemouth Bass and 2019 summer for all fish species.

NOTICE: Lake-Link Inc assumes no responsibility or liability for any errors or omissions of the information for Andrew. Although we strive to provide the most accurate information as we can the information contained in this page is provided on an "as is" basis with no guarantees of completeness, accuracy, usefulness or timeliness.