Flahtery
Jackson County, MN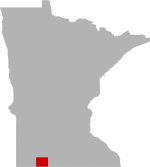 SHARE THIS PAGE
Flahtery is located in
Jackson County, Minnesota
. This lake is 457 acres in size. It is approximately 0 feet deep at its deepest point. When fishing, anglers can expect to catch a variety of fish including Black Bullhead, Walleye, Yellow Perch,.
Black Bullhead
Walleye
Yellow Perch
Bigmouth Buffalo
Carp
Orangespotted Sunfish
White Sucker
NOTE: This list may not be all inclusive of all speices present in Flahtery.
HISTORY AND STATUS OF FISHERY
INTRODUCTION

Flaherty Lake is a 450-acre lake located four miles north of the City of Lakefield in Jackson County. Flaherty Lake has a maximum depth of 5.0 feet, and typically has turbid water. Flaherty Lake is located in a predominantly agricultural landscape, which likely accounts for the poor water quality. Flaherty Lake has one major inlet, which includes County Ditch 118 and Judicial Ditch 53, draining approximately five square miles. Flaherty Lake outlets into a private ditch at the southwest corner of the lake, then flows approximately 1.5 miles downstream into South Heron Lake. Despite a 30 foot drop in elevation from Flaherty Lake to South Heron Lake, fish are able to emigrate from South Heron Lake when water is high. Up until this point, Flaherty Lake did not have a public access and therefore was not stocked or managed by MNDNR Fisheries. In 2015, land was purchased on the east side of the lake by the Jackson County Conservation League, and an access was installed by MNDNR during the summer of 2015. Historically, Flaherty Lake has provided good Yellow Perch and Northern Pike fishing; therefore, the lake will likely be managed primarily for Northern Pike and secondarily for Yellow Perch. Additionally, Flaherty Lake occasionally experiences low dissolved oxygen levels, thus management species will include those that are more tolerant of low dissolved oxygen levels such as Northern Pike and Yellow Perch. An initial survey was conducted the week of June 29, 2015 to document size and abundance of existing fish populations using one gill net and nine trap nets.


NORTHERN PIKE

Zero Northern Pike were captured in the 2015 survey. Historically, Flaherty Lake has had a fishable Northern Pike population that at times was fairly abundant. A special fish survey in 2000 captured 17.0 Northern Pike per trap net. The winter of 2013-2014 proved to be harsh as thick ice and snow resulted in low dissolved oxygen levels in many area lakes. Although dissolved oxygen was not monitored and no reports of dead fish were received, Flaherty Lake likely experienced some winterkill during the winter of 2013-2014, which may account for no Northern Pike being captured in 2015. The Northern Pike population will be reestablished via stocking. Stocking has already begun, as 464 Northern Pike fingerlings (4 fish per pound) were stocked in September 2015. Depending on availability, adult winter rescue Northern Pike from Rice Lake in Aitkin County will be stocked during the winter of 2015-2016.


YELLOW PERCH

Yellow Perch were abundant in 2015, being captured at a rate of 69.0 per gill net, which is higher than the expected range of catch rates for similar lakes in the area (3.3 to 30.4 per gill net). Size structure of Yellow Perch was small, as Yellow Perch were 4.8 to 10.0 inches and averaged 6.2 inches. The reestablishment of Northern Pike in Flaherty Lake should provide balance to the Yellow Perch population, by reducing abundance and encouraging growth of Yellow Perch.


OTHER SPECIES

Evidence from years past suggested that Black Bullhead were very abundant in Flaherty Lake. In 2015, Black Bullhead were captured at a rate of 73.0 per gill net which is within the expected range of catch rates for similar lakes in the area (30.3 to 150.6 per gill net). Black Bullhead were 4.8 to 12.8 inches and averaged 8.6 inches.

Bigmouth Buffalo were captured at a rate of 9.0 per gill net, which is higher than the expected range of catch rates for similar lakes in the area 0.8 to 7.0 per gill net). Bigmouth Buffalo were 8.8 to 16.9 inches and averaged 12.7 inches.

Common Carp were captured at a rate of 2.8 per trap net, which was within the expected range of catch rates for similar lakes in the area (1.0 to 5.5 per trap net). Common Carp were large, with lengths ranging from 7.6 to 30.8 inches and averaging 24.1 inches.
One 22.3 inch Walleye was captured in the gill net. Walleye have not been stocked since 1999 (private stocking), so this was likely an illegal introduction. Twelve White Sucker were sampled, ranging in length from 7.9 to 17.7 inches and averaging 12.3 inches. Twenty-three Orangespotted Sunfish were sampled.

Plants in the water and at the water's edge provide habitat, prevent erosion, and absorb excess nutrients. Shrubs, trees, and woody debris such as fallen trees or limbs provide good habitat both above and below the water and should be left in place. By leaving a buffer strip of natural vegetation along the shoreline, property owners can reduce erosion, help maintain or improve water quality, and provide habitat and travel corridors for wildlife.

Best management practices within the watershed (no-till farming, cover crops, buffer strips, targeted fertilizer application, reduced or metered tiling) would help reduce nutrients entering the lake. High nutrient and sediment input can cause algae blooms and reduce overall water quality. Any improvements in the watershed are likely to have positive impacts on the fishery.

Prepared by Jonah Dagel

NOTICE: Lake-Link Inc assumes no responsibility or liability for any errors or omissions of the information for Flahtery. Although we strive to provide the most accurate information as we can the information contained in this page is provided on an "as is" basis with no guarantees of completeness, accuracy, usefulness or timeliness.