Swan
Itasca County, MN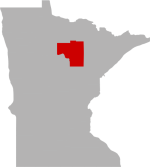 SHARE THIS PAGE
Swan is located in
Itasca County, Minnesota
. This lake is 2,456 acres in size. It is approximately 65 feet deep at its deepest point. When fishing, anglers can expect to catch a variety of fish including Black Bullhead, Bluegill, Brown Bullhead, Largemouth Bass, Northern Pike, Rock Bass, Walleye, Yellow Bullhead, Yellow Perch, Pumpkinseed,.
Boat Ramp
Black Bullhead
Black Crappie
Bluegill
Brown Bullhead
Largemouth Bass
Logperch
Northern Pike
Rock Bass
Walleye
Yellow Bullhead
Yellow Perch
Banded Killifish
Bigmouth Buffalo
Blackchin Shiner
Bowfin
Burbot
Cisco (Tullibee)
Common Shiner
Fathead Minnow
Golden Shiner
Greater Redhorse
Hybrid Sunfish
Johnny Darter
Pumpkinseed
Shorthead Redhorse
Silver Redhorse
White Sucker
NOTE: This list may not be all inclusive of all speices present in Swan.
HISTORY AND STATUS OF FISHERY
Swan Lake is a class 22 lake located on the south side of Pengilly, MN. The lake has one developed public access and the shoreline is highly developed with almost 500 homes/cabins. The lake management plan indicates walleye and northern pike as the primary species of management with black crappie as secondary species. In 2005, a 17 to 26 inch protected slot length limit with only one walleye over 26 inches in possession was implemented. The 2013 assessment was conducted to help evaluate the special regulation. The 2013 assessment included additional sampling of near shore fish species in order to calculate an Index of Biotic Integrity (IBI) score and these data are documented in a separate report.

In general, northern pike gill-net catch rates have increased from being below the 1st quartile value from 1948 through 1975 to being above the lake class median in all but one assessment since. In 2000, the northern pike catch was the highest on record at 9.8 fish/net. In the last three assessments, the catch has exceeded the management goal of 5.0 fish/net; ranging from 6.8 fish/net in 2005 to 7.9 fish/net 2013. In 2013, the sampled fish ranged from 16.6 to 38.0 inches and had a mean length of 22.5 inches. Seven year-classes were identified by scales and cliethra with fish from age 1 to 7 represented. Two through four year old fish represented 86% of the fish aged. Northern pike growth was similar to statewide averages with fish averaging 23.4 inches after four years.

Previous assessments have had walleye catch rates from as low as 2.0 in 1985 to as high as 11.1 fish/net in 1954. Although the 2013 walleye gill-net catch of 5.0 fish/net did not attain the ambitious management goal of 10.0 fish/net, it was within the lake class normal range. The lower catch is not a concern because a high proportion of the sample was smaller fish that are underrepresented in the gear. The sampled fish ranged from 7.6 to 27.5 inches and averaged 14.8 inches.

Fourteen year-classes were identified from scale and bone analysis with fish from age 1 to 18 years old. Walleye from the 2008 through 2012 year-classes each represented at least 13% of the sample. The 2012 year-class (19% of the sample) appeared to be quite large considering they averaged 8.8 inches long and our standard experimental gill nets underestimate small fish. Growth was similar to statewide averages for all ages through age 10. Walleye averaged 15.0 inches after four years of growth.

The black crappie trap-net catch was 0.3 fish/net, which is near the 1st quartile for class 22 lakes. The catch rates have fluctuated from 0.3 to 1.4 fish/net since 1975. The fish ranged from 7.4 to 10.6 inches and averaged 9.3 inches. Black crappie were not aged in this assessment.

The bluegill population has never been abundant in Swan Lake. The 2009 trap-net catch (12.7/net) was the highest on record, approaching the lake class median of 15.3/net. In 2013, the catch was 1.6 fish/trap net. The sampled fish ranged from 2.6 to 8.3 inches with an average length of 4.4 inches. Bluegill were not aged in this assessment.

Yellow perch gill-net catch rates have fluctuated from a low of 10.4 fish/net in 1954 to a high of 63.0 fish/net in 1984. The catch has been fairly stable in the last three assessments. The gill-net catch was 25.7 fish/net in 2013, which is between the lake class median and 3rd quartile value. The sampled fish ranged from 4.7 to 10.0 inches and had an average length of 6.4 inches. The yellow perch population is likely more important to the fish community as a prey source than for anglers to target.

The tullibee is a species that can be difficult to sample but are important to fish communities as a prey source. Tullibee catch rates have been as low as 0.9 fish/net and as high as 22.1 fish/net since 1948. The gill-net catch of 0.9 fish/net in 2013 was the lowest on record for Swan Lake, and it reflects a trend that began in the mid-1980s. Although the total number captured was low, there were obviously two age-classes present based on the size distribution.

Other species observed during the assessment included brown bullhead, bowfin, hybrid sunfish, pumpkinseed sunfish, rock bass, white sucker, and yellow bullhead.

In order to maintain or improve fish and wildlife populations, water quality and habitat must be protected. People often associate water quality problems with large-scale agricultural, forestry, urban development or industrial practices in the watershed. In reality, the impact of land use decisions on one lake lot may be relatively small, yet the cumulative impact of those decisions on many lake lots can result in a significant decline in water quality and habitat. For example, removing shoreline and aquatic vegetation, fertilizing lawns, mowing to the water's edge, installing beach sand blankets, failing septic systems and uncontrolled run-off, all contribute excess nutrients and sediment which degrade water quality and habitat. Understanding these cumulative impacts and taking steps to avoid or minimize them will help to insure our quality fisheries can be enjoyed by future generations.
NOTICE: Lake-Link Inc assumes no responsibility or liability for any errors or omissions of the information for Swan. Although we strive to provide the most accurate information as we can the information contained in this page is provided on an "as is" basis with no guarantees of completeness, accuracy, usefulness or timeliness.