Bluewater
Itasca County, MN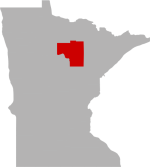 SHARE THIS PAGE
Bluewater is located in
Itasca County, Minnesota
. This lake is 364 acres in size. It is approximately 120 feet deep at its deepest point. When fishing, anglers can expect to catch a variety of fish including Black Bullhead, Bluegill, Green Sunfish, Lake Trout, Largemouth Bass, Northern Pike, Rock Bass, Smallmouth Bass, Walleye, Yellow Bullhead, Yellow Perch, Pumpkinseed, Splake and.
No ramp
Black Bullhead
Bluegill
Green Sunfish
Lake Trout
Largemouth Bass
Northern Pike
Rock Bass
Smallmouth Bass
Walleye
Yellow Bullhead
Yellow Perch
Cisco (Tullibee)
Hybrid Sunfish
Pumpkinseed
Splake
White Sucker
NOTE: This list may not be all inclusive of all speices present in Bluewater.
HISTORY AND STATUS OF FISHERY
Bluewater Lake has been primarily managed for lake trout since 1967, and recently, yearlings have been stocked on an every-other-year schedule. Because of the difficulty of ageing lake trout, all stocked yearlings, since 1993, were given a specific fin clip to differentiate between stocked age classes and natural reproduction. Beginning in 2005, as part of a strain evaluation project, both Gillis Lake and Mountain Lake strain lake trout were stocked at 5 fish/acre (910). Each strain was assigned a fin clip to distinguish between the strains and assign ages to individual fish. The goal of the project was to evaluate survival and growth of the paired stockings at age-4 across the state.

Deepwater gill nets sampled 25 lake trout at a rate consistent with the previous assessment, and consistent with the lake average since deepwater gill net sets were used. Captured lake trout ranged in length from 7.4-30.7 inches, with an average length of 18.8 inches. Field inspection indicated that six of the lake trout sampled had an identifying fin clip. Five fish were identified as age-1 through fin clip markings, of which three were Gillis strain and two were Mountain strain. All age-1 fish sampled were from the 2007 spring stocking. Another fin clipped fish was identified as an age-3 Gillis strain (2005 stocking). The remaining 76% of sampled lake trout lacked a fin clip and are assumed to be from natural reproduction. The length frequency of known age fish indicates unclipped fish around 16 inches are age-3. Scale analysis of non-clipped fish suggests that ages 3-9 were present in the sample. Caution should be exercised when reviewing back-calculated length-at-age data due to the difficulty of accurately reading lake trout scales. The mean length at the time of capture of the yearling lake trout was 8.4 inches, while the mean back calculation at age-1 of fish assumed to be from natural recruitment was 5.7 inches. This is consistent with hatchery-reared fish being longer at age-1 due to diet and growing conditions than fish of natural origins. Scale analysis along with the length frequency suggests that ages 3-7 average about two inches per year. Statewide averages are inadequate for growth comparisons due to the naturally slow growth and the variability of trout water productivity.

Evaluating between the strains in Bluewater is difficult due to a limited sample size of the target age in the sample (age-3). Only one age-3 fish was sampled, a 414mm Gillis strain lake trout. Five marked yearlings were sampled, three Gillis strain and two Mountain strain. Other lakes in the Grand Rapids area included in the project were Trout Lake (31-0410) and Caribou Lake. There was no age-3 fish captured in Trout Lake, however 91% of the yearling sampled were Gillis strain. There was five age-3 fish sampled in Caribou, of which four were identified as Gillis strain and one Mountain strain. There was no yearling stocked lake trout sampled in Caribou. At this time, more Gillis strain lake trout have been sampled in the Grand Rapids area, but more time and a larger sample size is needed to make a definitive answer.

Catch rates for tullibee can be highly variable due to their open water, schooling nature. Tullibee were sampled at the lowest rate since deepwater gill nets have been used. The one tullibee sampled was 7.4 inches. Larger size tullibee are not typically sampled in Bluewater Lake.

Catch rates for other species sampled in gill nets set deep to sample lake trout are not very useful as an indicator of species abundance. Other species sampled in deepwater gill nets in relatively low abundance were largemouth and smallmouth bass, northern pike, walleye, and white sucker.

Bluegill were sampled at a rate near the lower end of the expected range, and below the previous two assessments. Lengths ranged from 3.5-8.1 inches with an average length of 5.9 inches. Largemouth bass were sampled at a rate above the expected range, and above the previous assessment. Lengths ranged from 5.2-14.7 inches with an average length of 8.7 inches. Yellow perch were sampled at a rate within the expected range. Other species sampled in trap nets include green sunfish, pumpkinseed, rock bass, smallmouth bass, and yellow bullhead.

NOTICE: Lake-Link Inc assumes no responsibility or liability for any errors or omissions of the information for Bluewater. Although we strive to provide the most accurate information as we can the information contained in this page is provided on an "as is" basis with no guarantees of completeness, accuracy, usefulness or timeliness.