Bass
Itasca County, MN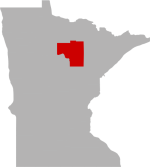 SHARE THIS PAGE
Bass is located in
Itasca County, Minnesota
. This lake is 2,714 acres in size. It is approximately 76 feet deep at its deepest point. When fishing, anglers can expect to catch a variety of fish including Black Bullhead, Bluegill, Brown Bullhead, Largemouth Bass, Northern Pike, Rock Bass, Smallmouth Bass, Walleye, Yellow Bullhead, Yellow Perch, Pumpkinseed,.
Black Bullhead
Black Crappie
Bluegill
Brown Bullhead
Largemouth Bass
Northern Pike
Rock Bass
Smallmouth Bass
Walleye
Yellow Bullhead
Yellow Perch
Blacknose Shiner
Bowfin
Burbot
Cisco (Tullibee)
Golden Shiner
Hybrid Sunfish
Johnny Darter
Mimic Shiner
Mottled Sculpin
Pumpkinseed
Spottail Shiner
Tadpole Madtom
White Sucker
NOTE: This list may not be all inclusive of all speices present in Bass.
HISTORY AND STATUS OF FISHERY
Bass Lake is a 2,407 acre lake located near Cohasset, MN in the Mississippi River watershed. The lake has a littoral area of 1,254 acres and a maximum depth of 76 feet. The lake has two distinct basins connected by a long, shallow channel. Bass Lake has an outlet to the Mississippi River with a modified rock weir to maintain water levels but allow fish passage. Bass Lake supports a diverse aquatic plant community and many of the shoal water areas support emergent vegetation such as bulrushes and wild rice. While much of the shoreline has been developed for residences, the central part of the lake is mainly in public ownership. The DNR also maintains Crawford Island, a large island in the north basin, as a State Aquatic Management Area. Bass Lake is a popular lake for fishing and recreational boating due to its large size and close proximity to Grand Rapids. Bass Lake provides good angling opportunities for a variety of species. The lake management plan lists Walleye and Bluegill as the primary species of management.

The 2014 Walleye gill-net catch was 3.4/net, below the management plan goal of 5.0/net. This catch was down slightly from the 2010 assessment but similar to the lake class median and the long-term average for Bass Lake. Walleye size structure declined slightly as well. Sampled fish varied from 7.0 to 23.5 inches with a mean length of 14.2 inches. Age structure of the sample revealed a high proportion of young fish. Age 1-3 fish made up 58% of the catch. Walleye size structure should improve in the next couple of years as these fish grow to sizes more preferable to anglers. Bass Lake is stocked with Walleye fingerlings in odd-numbered years. Past surveys have documented some natural reproduction. Results from the 2014 assessment concurred as 44% of sampled Walleye were attributed to non-stocked years.

Northern Pike were captured at 6.1/gill net, within the expected range for this lake class and near the long-term average for Bass Lake. As in previous assessments, size structure of Northern Pike was poor. Sampled pike ranged from 12.5 to 25.6 inches with a mean length of 18.6 inches. Age structure of the sample was dominated by younger age fish; age 2-3 pike made up 79% of the sample. Growth of pike was similar to statewide means. On average, Northern Pike in Bass Lake take 4 years to reach 21 inches.

Smallmouth Bass appear to be a recent development in Bass Lake, first sampled in 2005. Gill-net catches for Smallmouth Bass have exceeded the lake class third quartile in the last two assessments. The 2014 catch rate was similar to the previous survey at 1.3/net. Size structure remained favorable with fish ranging from 10.2 to 18.3 inches with a mean length of 14.7 inches. Growth appeared fairly good with Smallmouth Bass exceeding 15.0 inches at age 5. Five Smallmouth Bass were also captured during a spring night electrofishing assessment.

A total of 22 Largemouth Bass were sampled with night electrofishing for a catch rate of 14.5/hour. This is considered a relatively low catch rate compared to other area lakes. Sampled Largemouth Bass ranged from 6.0 to 18.6 inches with a mean length of 12.7 inches. Recruitment appeared fairly consistent with seven year classes identified between ages 2-10. Growth was considered average with fish exceeding 14 inches at age 5.

The trap-net catch for Bluegill equaled the historic high catch for a mid-summer assessment at 5.1/net. Bluegill size structure was favorable, but declined slightly from previous surveys. Sampled fish ranged from 2.8 to 9.8 inches with a mean length of 7.2 inches. A special conservation regulation (5 fish bag limit for sunfish) was implemented in 2001 to protect the quality Bluegill population, and special spring trap-net assessments targeting Bluegill have been conducted eight times since 2000. The spring assessments obtain larger sample sizes and provide more detailed information on Bluegill age, growth and size structure.

The gill-net catch for Yellow Perch was below the historical average for the lake, but within the expected range for this lake class at 5.7/net. Sampled perch ranged from 5.2 to 12.5 inches with a mean length of 6.4 inches.

As in the previous two surveys, the gill-net catch for Tullibee remained near a historic low of 0.1/net. Summer gill-net catches for Tullibee are typically not a reliable index of abundance due to that species' tendency to suspend in mid-lake areas where no nets are set.

Other species sampled in this assessment included Black Crappie, Bowfin, Hybrid Sunfish, Longear Sunfish, Pumpkinseed Sunfish, Rock Bass, Brown Bullhead, Yellow Bullhead and White Sucker.

NOTICE: Lake-Link Inc assumes no responsibility or liability for any errors or omissions of the information for Bass. Although we strive to provide the most accurate information as we can the information contained in this page is provided on an "as is" basis with no guarantees of completeness, accuracy, usefulness or timeliness.